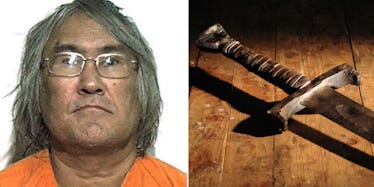 Guy Allegedly Stabbed A Man With A Sword Because He Was Tired Of Him Talking
Shutterstock
In theory, out of all of the species in the animal kingdom, humans are the most advanced.
We can think in the abstract, weigh decisions, and delineate right from wrong. But, despite our unique ability to control our natural instincts, sometimes, something in us snaps — and the animal in us comes out.
I'm going to hazard a guess and say that's what happened to 55-year-old Daniel W. Buretz, who was arrested Monday for stabbing 46-year-old John W. Bell with a sword because he was tired of him talking.
Can't make this sh*t up.
Police were called to Buretz's Canonsburg, Washington home around 5 pm Monday evening by Buretz himself, who claimed Bell was going to assault him.
When the officers arrived, Buretz rescinded his complaint and insisted he and Bell had worked things out, according to the Observer-Reporter.
Both men, though reportedly exceedingly drunk, seemed to be in good spirits, so the officers accepted this story and left the scene.
An hour later, police were called to the home again, where they found Bell outside, bleeding from a knife wound in his back.
Officers entered the apartment to question Buretz, who told them Bell is "nasty" and that he'd grown "tired of listening to his mouth."
A sword, which police believe was used to attack Bell, was later found in Buretz's bedroom.
Buretz was arrested and charged with aggravated assault, simple assault, harassment, and reckless endangerment.
He was transferred to Washington County Jail and is being held on $50,000 bond until a preliminary hearing later this month.
Bell was taken to Canonsburg Hospital for treatment and is expected to make a full recovery.
Citations: Canonsburg man accused of stabbing man with sword (Observer Reporter)