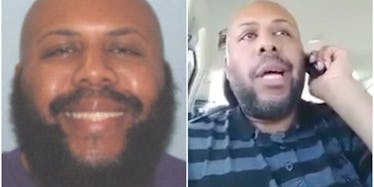 Gunman On The Run After Posting Facebook Video Of Him Killing Elderly Man
Cleveland Police/Facebook
A huge manhunt is underway after a suspected killer shot dead an elderly man and recorded it on Facebook in Cleveland, Ohio.
Police have warned residents in Pennsylvania, New York, Indiana and Michigan to be on high alert as they search for Steve Stephens, who claims to have committed multiple other homicides.
The video, which went viral after it was posted around 2 pm on Easter Sunday, shows the 37-year-old stepping out of a car and approaching an elderly man who Cleveland Police have identified as Robert Godwin Sr, 74.
Stephens is heard saying,
Imma kill this guy right here -- this old dude. Hi, can you do me a favor? Can you say 'Joy Lane?'
Godwin repeats the name, and Stephens continues,
Yeah, she's the reason all this is about to happen to you.
He pulls the trigger and makes off in his car.
Joy Lane is believed to be Stephen's ex-girlfriend. CBS reports she texted the news station saying,
We had been in a relationship for several years. I am sorry that all of this has happened. My heart and prayers goes out to the family members of the victim. Steve really is a nice guy... he is generous with everyone he knows. He was kind and loving to me and my children. This is a very difficult time for me and my family Please respect our privacy at this time.
Another video has since emerged showing Stephens talking on the phone to someone claiming he has murdered 13 people. He says,
I just snapped... that's what I did, I just killed 13 people. I'm going to keep killing until they catch me.
He ends the phone call and apologizes to the camera, then says he's working on killing a 14th person "as we speak."
Police have released an aggravated murder warrant for Stephens and urged anyone who spots him or his car to get in touch immediately.
A spokesperson for Cleveland Police said,
No additional victims have been located and officers continue to search multiple areas. Suspect did broadcast the killing on Facebook and has claimed to have committed multiple other homicides which are still not verified. Suspect in this case is a bm Steve Stephens 6'1 244 bald with a full beard. Wearing dark blue and grey or black striped polo shirt. Driving a white Ford Fusion with a temp tag. Armed and dangerous. If seen call 9-1-1. Do not approach.
Citations: Cleveland Police hunt for suspect after Facebook Live shooting (CBS News)