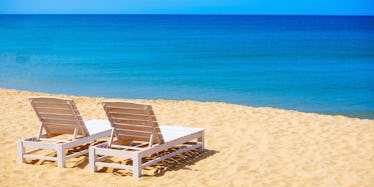 Woman Shares Pic Of Skin Cancer Scar To Shed Light On Dangers Of Tanning
Shutterstock
A Scottish woman shared a photo of the scarring left by skin cancer to show the consequences of sun tanning.
According to Daily Mail, 40-year-old Lorraine Henderson of Livingston, Scotland was a regular user of tanning beds since she was just 13 years old.
The mother of one also never used sunscreen and wore only tanning oil when sunbathing.
Henderson told local media outlet STV,
I'd go on holiday and get the best tan I could, then come back and really hit the sun beds to keep my color up... I just was wanting to feel good about myself and when you've got a tan you do feel good about yourself. Leading up to holidays to get a base tan, when I got back from holidays I would use them four times a week. I would start on six minutes but when I came back from my holidays I would go up to nine minutes.
A spot on her face emerged and even began to grow, but Henderson said she ignored it for an entire year, thinking the sun would simply "clear it up."
The growth remained, however, prompting Henderson to heed a friend's advice and see a doctor.
Her doctor referred her to a dermatologist in Edinburgh who apparently only needed to take one look at her face before giving a diagnosis of skin cancer.
Surgeons cut a hole in Henderson's face to remove the cancerous growth.
According to Daily Mail, she said,
After two days I took the plaster off, ran a bath, and I was horrified. I like to look after myself, so seeing that huge scar on my face really hit home what I'd done with the sunbeds.
On Monday, Henderson added two photos to Facebook showing the growth before her surgery and the scar she will now have the rest of her life.
Henderson believes the dangers of tanning beds are not publicized enough, which is why she continuously "abused" her skin without thinking about it.
Her warning echoes that of Indiana's Judy Cloud, who posted graphic photos in March of her face after having skin cancer removed.
The World Health Organization reportedly lists tanning beds alongside cigarettes as habits most likely to cause cancer.
Research cited by Daily Mail says using a tanning bed for just 10 minutes is twice as likely to cause cancer as lying outside in the Mediterranean region for the same amount of time.
Citations: Mother who used sunbeds and never wore cream shares shocking picture of her skin cancer scar to warn others of the dangers (Daily Mail)