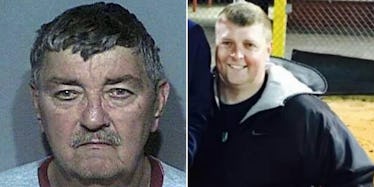 Grandpa Kills Son Who Wouldn't Stop Hitting 12-Year-Old Daughter On Drive Home
Baldwin County Sheriff's Office/Facebook
A grandfather is accused of killing his own son who was abusing his 12-year-old granddaughter.
Hubbard Junior Hall, 64, allegedly shot his son, Mark Hall, after a heated argument about the young girl's welfare.
Authorities said the 64-year-old demanded his granddaughter stay with him and her grandma at their home in Baldwin County, Alabama, because Mark, 41, had been hitting her.
The father and son argued, culminating in Hubbard allegedly shooting his son with a .25 caliber pistol. Mark was taken to hospital but was pronounced dead on arrival.
Baldwin Sheriff's Captain Stephen Arthur told People,
Apparently the discharged bullet hit his rib cage and ricocheted into his chest cavity, where it caused severe bleeding. He bled to death before he was able to get to the hospital.
Hubbard has been charged with murder and is being held at the Baldwin County Corrections Center on a $100,000 bond.
Mark, a softball coach, had been at a game in Mobile, Alabama, with his daughter and the girl's grandma on the day of his death.
But on the way home, he received a phone call about his daughter that "upset him," Arthur said.
He added,
Whatever this individual told Mr. Hall, it upset him and he began to strike his daughter. This assault or striking of the child continued on the entire drive home.
Baldwin County District Attorney Robert Wilters said the girl had been staying with her grandparents, but when they arrived back there, Mark announced he wanted to take her back to his house, which is directly behind his parents' home.
That's when Hubbard intervened. Arthur said he told his son,
You are not going to take her with you. She is staying here with us.
Wilters described the killing as "tough for a kid" and "tough for everybody."
Hubbard Junior Hall has not yet entered a plea.
Citations: Grandfather Allegedly Murders Son to Protect Granddaughter, 12, from Abuse (People)