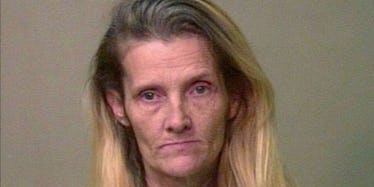 Grandma Dresses Up Like A Witch To Whip 7-Year-Old And Pinch Her With Pliers
Police
A woman faces charges of extreme child abuse and neglect after dressing like a witch and torturing her granddaughter regularly.
Geneva Robinson, 51, wore a green mask and a hooded cloak when she abused her 7-year-old granddaughter inside her Oklahoma City home, People reports.
When she dressed as a witch, she called herself "Nelda" and punished the child in various horrific ways.
Police first noticed the abuse in 2014 when they received a call from workers at Griffin Memorial Hospital in Norman, Oklahoma.
Court records show Robinson tried to admit her grandchild into the hospital because she "couldn't control her," but authorities came to a different conclusion.
Police noticed the malnourished youngster had marks of abuse all over her body, which included multiple bruises and burns. They also noticed scrapes around her ankles and wrists, leading them to believe she was shackled and bound.
Robinson's granddaughter talked to police about the way her grandmother tortured her, and the details are truly nightmarish.
The victim told authorities Robinson used pliers to pinch her skin, beat her regularly and forced her to go days without eating.
Documents say this grandmother would also cut her granddaughter's hair while she slept — and often made her sleep outside with the dogs.
The neglected child told detectives about one instance where "Nelda" used a pink dog leash to suspend her from the ceiling in her garage before torturing her and saying, "Creatures in the attic were going to come get her."
This wasn't "Nelda's" only victim, though. Recent evidence led police to believe she also abused her 7-year-old grandson, whose fingers she'd cut with scissors, WWLP reports.
It's been reported Robinson's boyfriend and co-defendant, Joshua Granger, helped her torture her grandchildren inside their home.
Ruben Herreras, a horrified neighbor, commented on the couple's actions and said,
I have two children of myself. I couldn't imagine doing that to my kids at all. It's scary. You don't know what goes on inside the houses. You don't know.
Robinson pleaded guilty to 11 counts of child abuse on February 3, and the couple will be sentenced on March 28.
Citations: Woman dresses as witch, charged with child abuse (CNN WWLP), Oklahoma Grandma Terrorized 7-Year-Old Granddaughter by Dressing Like a Witch (People)