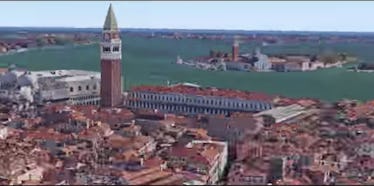 Epic Google Maps Hyperlapse Around The World Will Give You Serious Travel FOMO
YouTube
Google Maps is celebrating its 12th anniversary with an epic video showing you how the service has taken you around the world over the past dozen years.
I still remember when I first discovered Google Maps.
It was with simple stuff, some recommended by teachers and friends. We were told you could get on this Google Maps thing and be able to see the Grand Canyon and the Great Wall right from your home computer.
And it was really neat — because you could!
The internet was created to bring people close together as humans spread farther apart, physically. The Google Maps service was an easy way to do that.
It evolved from those early stages.
My dad used to travel a lot for work, and I would look up where he was on Google Maps. I'd send him a screenshot from Google Maps, and he'd send a picture of the view in real life to me.
Google Maps got better and better as time went on, adding street view and better images.
We started using it for directions, planning and even calling an Uber.
The original Google Maps was launched in 2005 by Where 2 Technologies and Keyhole, Inc. Since then, it has grown and grown.
You can see exactly how the map service has improved in the new anniversary video.
The clip takes you around the world, starting in Italy.
It shows you various cities spanning the globe. Each of those cities are shown in the original Google Maps format going forward to where we are today with the extra specialized images.
The video will make you feel at once impressed with technology and extremely ready to cash in all your savings and hop on the next flight you can get — to anywhere.
So happy anniversary, Google Maps. Thanks so much for making us all unhappy about where we are.
Citations: Graphic Design Student Creates Epic Hyperlapse to Celebrate 12 Years of Google Maps (HypeBeast)