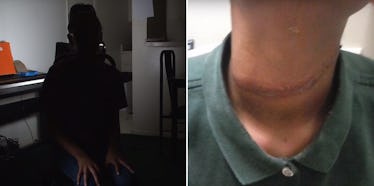 Lawsuit Claims Three White Students Caused Rope Burns On A Black Girl's Neck
A black girl from Waco, Texas claims she suffered severe rope burns at the hands of a few of her white classmates during a school field trip.
Now, her family is suing the school for $3 million, claiming the incident was not only intentional but racially motivated, according to The New York Times. The lawsuit was filed against the Live Oak Classical School as well as the owner of the ranch where the injury occurred, the Times reports.
Apparently, the girl, identified as KP by The New York Times, was playing on a rope swing. Another rope could be used to pull the swing. That rope somehow ended up around KP's neck, and she was somehow pulled to the ground, causing serious, visible rope burns on her neck, the lawsuit states.
In a video for The Dallas Morning News, the young girl sat in a dark room and described her version of events, from start to finish.
KP said,
I was on a rope swing and then on that swing I was just pulling the rope and then letting it go. When you pull the rope and let it go they're supposed to swing someone... But this time, I got tired and so I just watched them pull the rope for about three or four times until, one time, the rope got all the way around my neck.
It's at this point KP says she was pulled to the ground.
She continued,
When it got around my neck, no one helped me, so I had to pull it off by myself. And then I went around and stood up and I saw three boys. I asked them 'Guys, did you do that on purpose?' and they said 'No, we wouldn't do anything like that on purpose.'
She added,
It was really hurting and I just decided to reach for it to make sure it wasn't bleeding, and then I found a piece of rope coming out of something from my neck. They put Vaseline on my neck and they gave me Motrin. My mom looked at me and she was looking at me and then she said, 'Oh no, what happened?' and then another parent said, 'That looks so horrible.' And then the principal said, 'Oh, she just got a little rope burn. She'll be fine.'
KP's mother later took her to the emergency room so doctors could examine her injury.
The girl also told The Dallas Morning News she thinks the boys did it on purpose as they had been picking on her earlier.
The school maintains the injury occurred by accident, and a lawyer for the school disputed the accusations, calling them "inaccurate."
Whether this was an accident or on purpose, no parent should have to see his or her child suffer such severe injuries.
Citations: Lawsuit Says Texas Students Wrapped Rope Around Black Girl's Neck (The New York Times), Parents of black girl with horrific rope burns to her neck 'inflicted by white classmates on purpose' sue their private $7,000-a-year school for $3 million (Daily Mail), Accident or attack? Girl, 12, injured by rope around her neck on school trip (The Dallas Morning News)