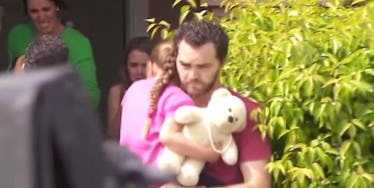 This 6-Year-Old Was Taken From Foster Parents Because She's Native American
A 6-year-old girl was reportedly taken away from her foster family because of her Native American heritage.
When she was 17 months old, Lexi was removed from the custody of her biological mother due to problems with substance abuse, according to Daily Mail.
Her biological father, who is Native American, reportedly has a lengthy criminal history. So, for over four years, Lexi lived with foster parents Rusty and Summer Page and their three children in Santa Clarita, California.
The Pages repeatedly tried to adopt Lexi, but apparently were unable to because the girl is 1.5 percent Choctaw, a Native American tribe.
Rusty Page, 33, told Los Angeles Times,
We never use the word foster sister, foster daughter; it's sister and daughter. She's part of our family with everything but her last name.
The Indian Child Welfare Act was created in 1978 to prevent the breakup of Native American families.
On the grounds of this federal law, a Los Angeles County Superior Court ruled the girl should be placed with relatives in Utah, Los Angeles Times reports.
So on Monday, Los Angeles County social workers arrived at the Pages' home to take Lexi to live with a couple related to her father by marriage.
Lexi's biological sister is a member of her new household, and another sister reportedly lives down the street.
In a statement, the Choctaw tribe said,
The Pages were always aware that the goal was to place [the girl] with her family, and her permanent placement has been delayed due to the Pages' opposition to the Indian Child Welfare Act.
Lexi's new parents, who are not Native American, "created a loving relationship" with the girl through regular visits, the tribe added.
Last night, the Page family released a statement, saying,
Let me speak directly to the people who took our daughter and who have her now. Please search deep into your heart and soul and do what's best for Lexi. Do the right thing and bring Lexi back home. Do not keep her one more minute. Do not force her to spend one more night away from us and her siblings. Look her in the eyes and just ask her what she wants. She will tell you she wants to go home. I'm begging every American within the sound of my voice to help us bring Lexi back home.
The family is now looking to challenge the Superior Court's decision at the Supreme Court of California, the family's lawyer said.
Citations: Social workers SEIZE sobbing girl, 6, from her home of five years in adoption race row: Devastated white foster family forced to give up their daughter by court because she is 1.5% Native American (Daily Mail), Amid custody battle, 6-year-old girl is removed from her Santa Clarita foster parents (Los Angeles Times), Girl, 6, removed from foster family of four years under law about her 1.5% Choctaw heritage (VIDEO) (New York Daily News)