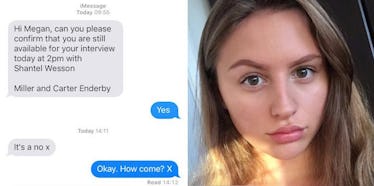 Girl Gets Rejected From Job With Crying-Laughing Emoji For Being 'Basic'
Twitter / Instagram
Megan Dixon just wanted to get a job.
The 18-year-old was interviewing for a waitress position at Miller and Carter, a steakhouse in Leicester in the United Kingdom, when she got the worst job rejection of all time.
She scheduled the waitressing interview with the assistant manager, who confirmed it the morning of the interview.
Dixon went to the interview. Maybe she thought it went well? She was told she would hear back about the job in a few days.
But as she was on her way out, she got another text from the assistant manager, who wrote,
It's a no x
Concerned, Dixon wrote back,
Okay. How come? X
The interviewer replied,
Just not engaging. And answers we're "like" basic
The interviewer ended that text with the classic crying-laughter emoji.
Dixon posted a screenshot of the text conversation on Twitter. She wrote,
Imagine going for a job interview and the woman says she will email u in a few days but then waits 1 minute after u leave to text u this
Dixon told the Sun,
The least she should have given me was some proper feedback. And the laughing face emoji was so unprofessional. It was a really bitchy thing to do.
Miller and Carter, the steakhouse, told Metro the texts were a mistake and they "can't apologize enough." The assistant manager thought she was texting the restaurant manager, not Dixon.
A spokesperson for the steakhouse said,
It was never our intention to be disrespectful or upset her in any way. The texts were sent in error and were intended for our manager, not the candidate. However, we expect our team to act professionally at all times and to give constructive feedback after any interview via email. We are taking this extremely seriously and will be investigating to ensure it never happens again.
Sure sounds like someone else will be going on job interviews soon enough.
Citations: Teenager told she didn't get job by text with 'crying laughing emoji' Read more: http://metro.co.uk/2017/02/09/teenager-told-she-didnt-get-job-by-text-with-crying-laughing-emoji-6436962/#ixzz4YE9k26zP (Metro)