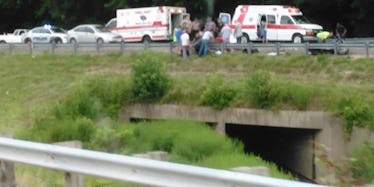 This Eerie Pic Of A 'Ghost' Over A Fatal Crash Site Will Give You Goosebumps
Saul Vazquez
Do you believe in ghosts?
If the answer is no, this may change your mind.
Saul Vazquez was passing the scene of a major crash on a Kentucky road when he decided to stop and take a picture.
At first glance it looks like nothing particularly out of the ordinary -- you can see two ambulances and a crowd of people swarming around a motorcyclist.
Now look directly above that crowd.
It will give you chills to know that a man died in the crash.
The image is currently doing the rounds online, with many speculating the white smear is the victim's spirit leaving his body.
Saul posted the picture on Facebook and wrote, "I took this picture just few minutes ago from the cab of my truck it was an accident between Campton and Stanton on the service road just off of the mountain parkway, zoom in and pay attention to the shadow just off the top of the state trooper hat. All I say is I hope everyone involved is okay!!"
The motorcyclist was taken to a hospital at around 5:30 pm on Tuesday, where he was pronounced dead.
No one else was involved in the collision.