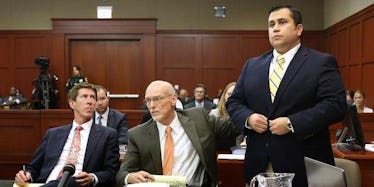 George Zimmerman's Twitter Account Suspended After Posting Ex's Nudes
Getty Images
"Why is George Zimmerman still making headlines?" is a question many find themselves asking every couple of months.
The answer is owed to the man's recurring outlandish behavior following his acquittal for killing Trayvon Martin in 2012.
Now, Zimmerman's antics are being put to rest on the social media front, as his Twitter account has officially been suspended.
Twitter put the suspension into effect following Zimmerman's tweets pertaining to an ex-girlfriend, in which he included nude photos of the unnamed woman, along with her email and phone number.
According to the Daily Dot, an unanswered call to the Kentucky phone line did, indeed, lead to the voicemail of the woman, Heather, mentioned in the incriminating tweets.
Zimmerman accuses the woman of cheating on him with another man, whom he refers to as "a dirty Muslim" in another tweet.
According to Twitter's Abusive Behavior Policy, Zimmerman broke the social media site's rules on several accounts, including "inciting others to harass another user" and posting intimate photos without the subject's consent.
New York Lawyer Carrie Goldberg says Zimmerman should be prepared for the possibility of being slapped with a civil lawsuit from Heather.
Goldberg tells the Daily Dot,
If he, as many abusers do, is publishing false statements about her—in this case related to promiscuity and theft—he could be liable under civil defamation laws, not to mention other privacy laws that may apply.
Citations: George Zimmerman suspended from Twitter after posting alleged ex's nudes (Daily Dot)