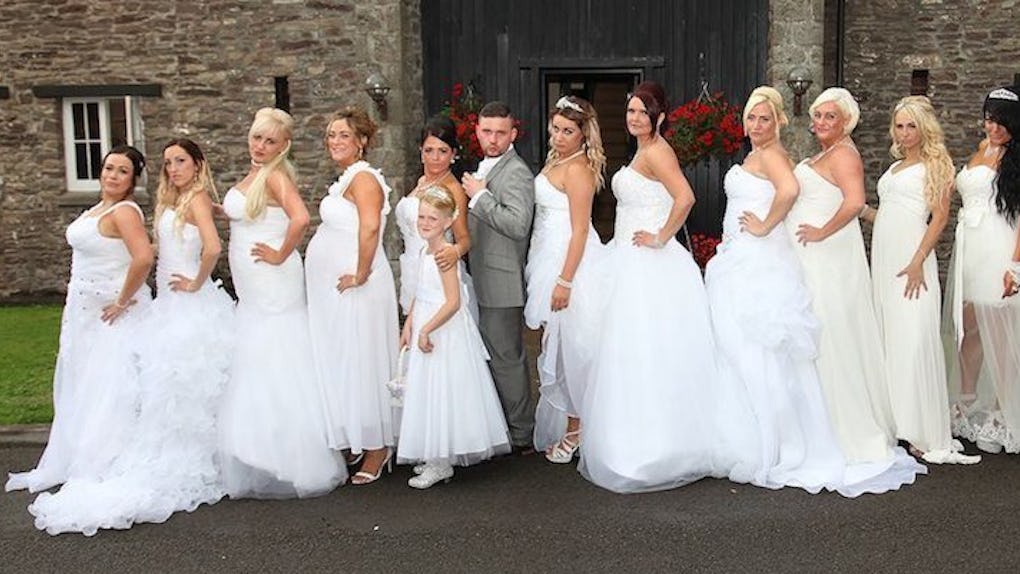 Facebook
This Gay Couple Had All The Bridesmaids Dress In Stunning Wedding Gowns
"Unique" and "traditional" are two words not ordinarily used in conjunction with one another — but then again, Derii Rogers and Ben Wood's wedding was anything but ordinary.
When planning their wedding, the same-sex couple knew they wanted to incorporate the traditional white wedding gown into the ceremony somehow, but neither Rogers nor Wood wanted to actually wear the dress.
They decided to showcase the traditional marriage symbol in a wonderfully inventive way: by dressing their 10 bridesmaids in white wedding gowns.
Instead of picking one dress to fit each bridesmaid, Rogers and Wood let each woman pick her own dress.
The only restriction was the dress had to be a white wedding gown. The rest was up to the bridesmaids.
Rogers spoke to Wales Online about the wonderfully unconventional idea. He explained,
We had lots of ideas for the wedding from the girls — but I wanted something outrageous... I figured every wedding needs a wedding dress — so why not 10? The girls all have huge personalities and so there was terrible competition, dress disasters and fall outs but on the day [of the wedding] they all looked fab. You could say the girls stole the limelight but we wouldn't have had it any other way.
Photos from the wedding, which was held at the Cwrt Bleddyn Hotel and Spa in Usk, Wales, show a stunning array of smiling, white-gowned women and the handsomest, happiest-looking grooms you'll ever see.
Check out some snaps from the ceremony below.
Upstaging the bride is the number one no-no at any traditional "man and wife" wedding...
...but, since Rogers and Wood's wedding had no bride, upstaging wasn't an issue.
A huge congratulations to Ben & Deri on their amazing wedding at the Cwrt Bleddyn Hotel. Everyone looked amazing, so... Posted by Capture The Moment Cwmbran on Wednesday, August 19, 2015
So, the two grooms let their bridesmaids play the brides for the day.
The results were stunning: The group members literally stopped traffic as they snapped pics.
Congratulations to the newlyweds and best of luck!
Citations: And the bridesmaids all wore white: Gay couple ensure their big day isn't missing a big white dress (Metro)