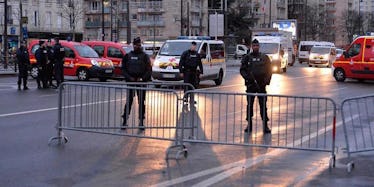 Paris Teacher Admits Faking Story About Being Stabbed By ISIS Supporter
Getty Images
A Paris teacher who claimed to have been stabbed by a supporter of the Islamic State admitted to making the attack up.
According to Daily Mail, the 45-year-old male kindergarten teacher initially told authorities a masked man entered his empty classroom at around 7 am local time today.
He said the attacker then stabbed him with a box cutter and scissors he obtained in the Seine-Saint-Denis school.
Earlier today, it was reported the attacker made a vocal pledge to the Islamic State, telling the teacher,
This is Daesh, this is a warning.
Daesh is an Arabic translation of the words that make up the acronym ISIS (Islamic State of Iraq and Syria).
The teacher was hospitalized with non-life-threatening injuries after being stabbed in the neck and side.
But according to The New York Times, a French police official said the teacher now admitted to stabbing himself and making up the attack.
The official reportedly said the teacher stabbed himself to "have himself transferred" to another school.
Before it was revealed to be a made-up story, the attack appeared to be inspired by a call to target French public schools from the Islamic State's French-language propaganda magazine last month.
The magazine reportedly instructed attacks on secular schools since their curriculums do not revolve around the teachings of Islam.
Security was increased at French schools shortly after last month's attack in Paris that killed 129 people.
After today's attack was reported, French Minister of Education Najat Vallaud-Belkacem said the Seine-Saint-Denis school would be closed today and reopen tomorrow.
Citations: French Teacher Lied About ISIS Stabbing Prosecutors Say (The New York Times), French teacher who claimed he was stabbed by a man shouting support for ISIS admits he LIED and had slashed his own neck (Daily Mail)