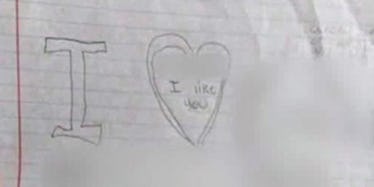 9-Year-Old May Face Sexual Harassment Charge For Writing Girl Love Notes
WFTS -TV
A fourth grader may be charged with sexual harassment for passing love notes to a girl during class.
According to New York Daily News, the unnamed 9-year-old student wrote to his classmate at their Hillsborough County, Florida school he thought she was "pretty and cute."
His mother described the content of one of a few notes to ABC Action News, saying,
[He said he liked] how she wears the same uniform and how her eyes sparkled like diamonds.
But when other students found out about the romantic gestures, they reportedly began to tease the boy and start rumors he wanted to see the girl without her clothes.
The notes, one of which declares, "I like you," inside a big heart, reportedly did not mention any sexual desires.
After the principal was informed of the teasing, however, the boy's mother was told her son would face sexual harassment charges if he wrote another note.
The girl did not ask for the notes, the school district said, so the boy's pursuit of his crush can be interpreted as a crime.
Hillsborough school district teachers are reportedly told not to condone any notes since they can disrupt classes.
The boy's mother, however, doesn't believe her son should be punished for what is considered normal behavior for his age.
She said,
What little kid doesn't write love notes? My 9-year-old doesn't even know what sexual harassment means.
Whether or not she will now discourage her son from expressing his feelings on paper is unclear.
Citations: Florida boy, 9, threatened with sexual harassment charges for writing love note (New York Daily News), 'Love Note' lands fourth grade student in principal's office (ABC Action News)