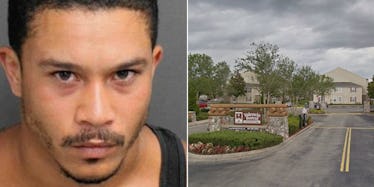 Foreign Exchange Student Host Arrested For Raping Girl 13 Times
Police/ Google Maps
Joshua Perez, a host dad for two Vietnamese foreign exchange students in Orlando, was charged with sexual battery and exposure of sexual organs on Tuesday, DailyMail.com reports.
Apparently, the 28-year-old Orange County man is accused of forcing sex onto one of his victims multiple times during her stay abroad -- 13 times since October, to be exact.
According to the arrest documents, a second victim living under his roof also claims Perez showed her his genitals while she was cooking mashed potatoes for him in their kitchen.
The reports say the woman was so frightened upon his sexual exposure that she ran into her bedroom, locked the door and called her parents, begging them to place her with a different host family.
It's been reported both women were staying with Perez and his girlfriend at the time of the assault. His girlfriend was acting as their host mom.
Investigators claim the duo lived in the Valencia Forest Apartments on Valencia Town Trail in Orlando, Florida when the harassment occurred.
His girlfriend -- who remains unnamed -- allegedly helped deputies catch Perez in the act of admitting to his sexual assault.
The host mom allowed police to listen in on a phone call between her and her boyfriend. During the conversation, Perez admitted to the sexual encounters with one of the students.
However, he claimed the sex acts were consensual.
The Orlando host dad also confirmed he "accidentally" exposed himself to the other female foreign exchange student who called her family in a state of terror.
Seeing that the reports did not state Perez was charged with sexually abusing a child, it's clear both woman were 18.
Apparently, they were placed into his Orange County home by an agency in Vietnam.
On Tuesday night, Perez was released from Orange County Jail after posting a $5,100 bail.
Citations: Orlando man accused of sexual battery against Vietnamese exchange student (WFTV 9), Host dad, 28, charged with 'sexually abusing two Vietnamese exchange students' staying in his home (DailyMail.com)