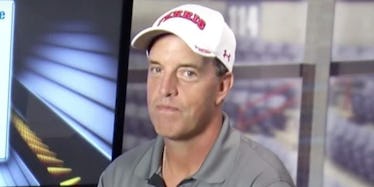 HS Football Coach Put His Penis In A Hot Dog Bun And Showed It To His Team
YouTube
A high school football coach from Washington is hoping to clear his name after reportedly being a total creep last summer.
Jim Sharkey, a 50-year-old football coach from Spokane, Washington, became the talk of the town for all of the wrong reasons. Sharkey allegedly exposed himself to students at a leadership camp last summer.
According to Deadspin, Jim Sharkey had been grilling hot dogs at the camp when he allegedly decided to put his penis into a hot dog bun and said,
 You think that is a big dog -- take a look at this.
Somehow, Sharkey, who worked at Ferris High School, wasn't slapped with anything more than a suspension. The man has been suspended since February 1, but the details of the allegations against him were just now made public.
Not only was the 11-year coach only hit with a suspension, but he was still allowed to coach the 2016 high school football season.
It wasn't until more students began to come forward about the hot dog bun incident that Sharkey was placed on paid administrative leave.
Here's a clip of Sharkey talking football.
According to the Spokesman-Review, the first student spoke out against Jim Sharkey's lewd acts on August 31 of last year. The coach denied the allegations immediately, saying they were "absolutely false" and "a complete lie."
Sharkey was then asked by someone would lie about something so serious. He said,
Maybe they want me fired.
Still, there was no evidence to verify the claims against him. That's what allowed him to continue coaching.
However, more and more students started to come forward about the allegations saying the witnessed him allegedly put his penis in a hot dog bun and show it to students.
One student even reported a separate incident after she claimed Sharkey allegedly called her a "puck slut" and a "puck bunny" because she was friends with hockey players at Ferris High School.
During a "name clearing" held on January 31, the football coach confessed to using those terms. He also stated he had called a student a "dipshit" at one point.
I think some of this stuff is taken out of context, but I did say these things.
As for the hot dog bun incident, though, Sharkey still says he didn't do it. In notes regarding allegations taken by the school district's Director of Certified Personnel Mary Templeton, Sharkey concluded,
This is a witch hunt. I do a lot for this school. It is going to be difficult to replace me at this time. This is my life – this is all I do.
As of right now, the investigation is ongoing.
Citations: High School Football Coach Suspended After He Allegedly Put His Dick In A Hot Dog Bun And Showed Players (Deadspin)