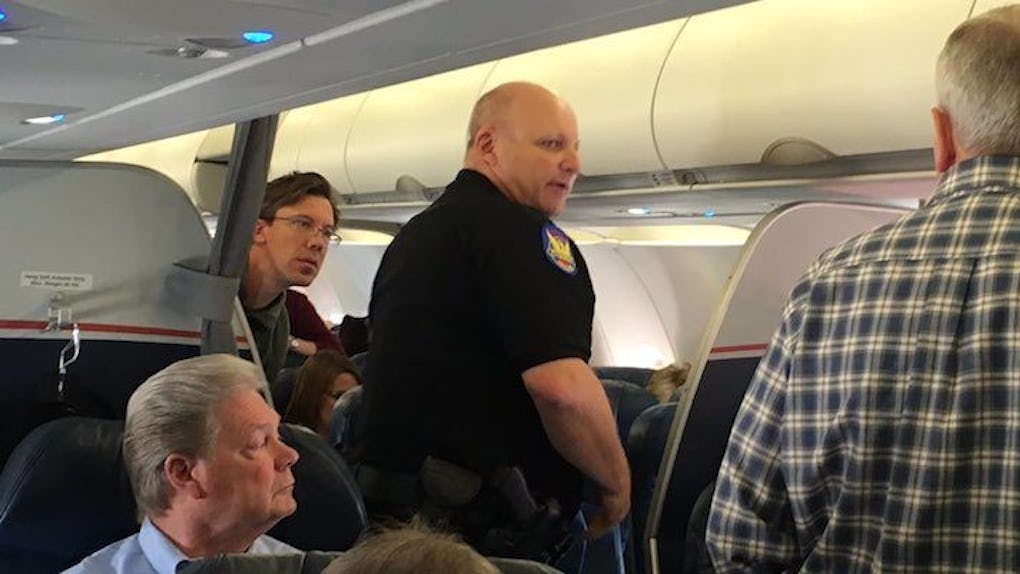 Twitter
Flight Made An Emergency Landing After Man Went On A Rant About 9/11
A flight to Philadelphia was reportedly diverted to Phoenix, Arizona after a passenger went on a threatening tirade referencing 9/11.
According to Daily Mail, American Airlines Flight 754 left Los Angeles International Airport at 8:38 am on Thursday, carrying around 150 passengers and six crew members.
Shortly after takeoff, an unidentified male passenger said to be in his 30s walked to the first-class section and reportedly began pacing up and down the aisle while complaining about rich people.
Passenger Nicoletta Heidegger told FOX 10,
[The man] started ranting about the military, government... [it] sounded like he was giving military commands and he started talking about psychological warfare and wanting to bring the plane down. It seemed like he was having... a flashback of sorts, and kind of in this military persona.
The man also apparently spoke about how his uncle is missing in action. According to witnesses, he said,
We will all see the truth, and I will be famous today.
He had been speaking for about 10 minutes when a couple passengers reportedly got up, walked him to his seat and restrained him with duct tape and a belt.
As he was being subdued, the man shouted about 9/11 and claimed he had a gun, TMZ reports.
The pilot made the decision to land in Phoenix about an hour and a half into the flight. To deplete fuel, the plane reportedly went in a circle for over an hour before landing at Phoenix Sky Harbor International Airport.
Homeland Security officers then came onto the aircraft to detain the man, who sources say was taken for a mental evaluation.
The man's bags were also removed due to concerns they contained explosives.
Phoenix Police remove unruly passenger bags as we refuel for Philly for my @NorskTitanium speech at Wharton tomorrow pic.twitter.com/gBu3wK3QU1 — Chip Yates (@chipyates89) October 29, 2015
The plane arrived at Philadelphia at a little before 8:30 pm Thursday night, according to CBS Philadelphia.
Police say the detained passenger could face charges once his evaluation is complete.
Citations: Terror on American Airlines flight after man gives speech referencing the 9/11 attacks and shouts he has a gun before he is restrained by hero passengers (Daily Mail), American Airlines flight diverted to Phoenix to remove unruly passenger (FOX 10), AMERICAN AIRLINES TERROR THREAT Passenger's 9/11 Rant ... 'I'LL BE FAMOUS TODAY!' (TMZ), Officials: Plane Bound For Philadelphia Diverted Due To Disruptive Passenger (CBS Philadelphia)