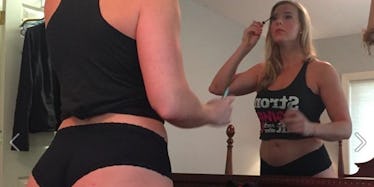 Fitness Blogger's Butt Selfie Goes Viral For Its Refreshing Point On Cellulite
Facebook
It's the first week of January, which means only one thing: "New year, new me."
Resolutions are kicking into high gear and goals are being set to attain the bodies of our dreams within the next 365 days.
However, some people are taking a different route in 2017 and simply embracing their flaws -- except for one inspirational chick named Molly Galbraith, that is.
The Kentucky-based fitness instructor recently posted a mirror selfie featuring her butt and an inspirational message on her Facebook page, and it's quickly gone viral.
In the post, the 32-year-old claims she isn't "embracing her flaws in 2017" because they aren't even "flaws" to begin with.
An excerpt from her message reads,
Why I'm Not Embracing My Flaws in 2017... A popular message often shared among women is to encourage each other to "accept" or "embrace" their flaws. These messages are well-intentioned and seen as supportive and inspiring for many women. Me? I'm NOT embracing my flaws in 2017. Why? Because I'm not the one who decided they were flaws to begin with.
Hell yeah, Molly!
She's right. Who's to say your flaws are actually "flaws" to begin with?
In the rest of the post, Molly speaks about how she became ashamed of her "flaws" at a young age and how it's become a narrative where women feel the constant need to fix themselves.
However, she finally came to the conclusion that her body is flawless and there's no need for her to live up to someone else's standards.
Her post continues, and says,
That narrative was handed to me as a very young girl. It's a narrative that made me feel self-conscious and like I was bigger than all of the other girls. It's a narrative that made me feel ashamed of, embarrassed by, and apologetic for my body. "Get rid of your unsightly cottage cheese thighs!" "Banish embarrassing stretch marks forever!" "Trim and tone your jelly belly in 10 days!" I agreed with this narrative for decades, and I let it run through my head like a broken record while punishing myself with intense exercise and restrictive dieting to fix those things the world told me needed fixing.
Not anymore. I've realized that I simply don't agree. I'm almost 5'11" and weigh 170 pounds. I have cellulite on my legs, stretch marks on my hips, butt, and breasts, and some jiggle on my belly — and the world constantly wants me to believe this is not OK. But I won't subscribe to someone else's standards and ideals for MY body. So, instead of embracing what someone else determined to be a flaw of mine, I choose to embrace my whole, flawless body.
Molly appears to be starting a trend of embracing your flawless body because her post has already accumulated 10,000 shares.
She's right, though. We shouldn't succumb to media and outsiders who tell us our bodies have "flaws."
We're the ones who should decide that -- and thanks to Molly, we don't have to "embrace our flaws" this year if we decide our flaws don't exist.
Citations: Snap Of Former Bodybuilder's Bum Goes Viral For The Right Reasons (LadBible)