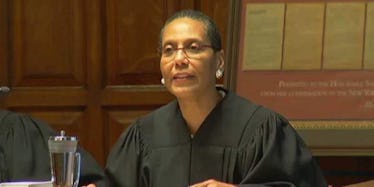 New York Mourns As The First Female Muslim Judge Is Found Dead In River
New York 1
Sheila Abdus-Salaam, a judge, was found dead in the Hudson River in New York City on Wednesday. She was 65.
Abdus-Salaam had a pioneering career. She was elected to the Supreme Court of New York County in 1993, becoming the first Muslim woman and black woman to serve in that position.
She was the first female Muslim judge in the United States with her Supreme Court appointment.
The body of Abdus-Salaam was found on Wednesday afternoon, when police responded to a report of a body floating near the shore of upper Manhattan, by 132nd Street.
Abdus-Salaam's body showed no signs of trauma or foul play. Police are treating her death as a suicide as an investigation continues.
Her husband reported her missing on Wednesday morning after her assistant texted him that she didn't come to the office that day. On Tuesday, Abdus-Salaam told her assistant she would not be coming in as she felt ill.
Abdus-Salaam was born in Washington DC and moved to New York to attend Barnard College, graduating in 1974. She received a degree from Columbia Law School in 1977.
After working on New York's Supreme Court for 15 years, Governor David Paterson of New York appointed her to the state's appellate division in 2009. She served as an associate justice there until 2013, when she joined the seven judges of the State Court of Appeals.
"Her personal warmth, uncompromising sense of fairness and bright legal mind were an inspiration to all of us who had the good fortune to know her," said Chief Judge Janet DiFiore of New York.
Leaders of New York, including Governor Andrew Cuomo, Mayor Bill De Blasio and outgoing Barnard President Debora Spar, expressed condolences.
"Through her writings, her wisdom, and her unshakable moral compass, she was a force for good whose legacy will be felt for years to come," Cuomo said in a statement, where he called her "a trailblazing jurist whose life in public service was in pursuit of a more fair and more just New York for all."
"I was proud to appoint her to the state's highest court and am deeply saddened by her passing," Cuomo said.
Citations: Judge found dead in Hudson River was 'force for good' (New York Post), Sheila Abdus-Salaam, Judge on New York's Top Court, Is Found Dead in Hudson River (New York Times), The First Woman Muslim Judge In The US Has Been Found Dead In A New York River (BuzzFeed), Police Believe New York Judge Found in Hudson River Committed Suicide (New York Times), Statement from Governor Andrew M. Cuomo on the Passing of Judge Sheila Abdus-Salaam (Governor New York)