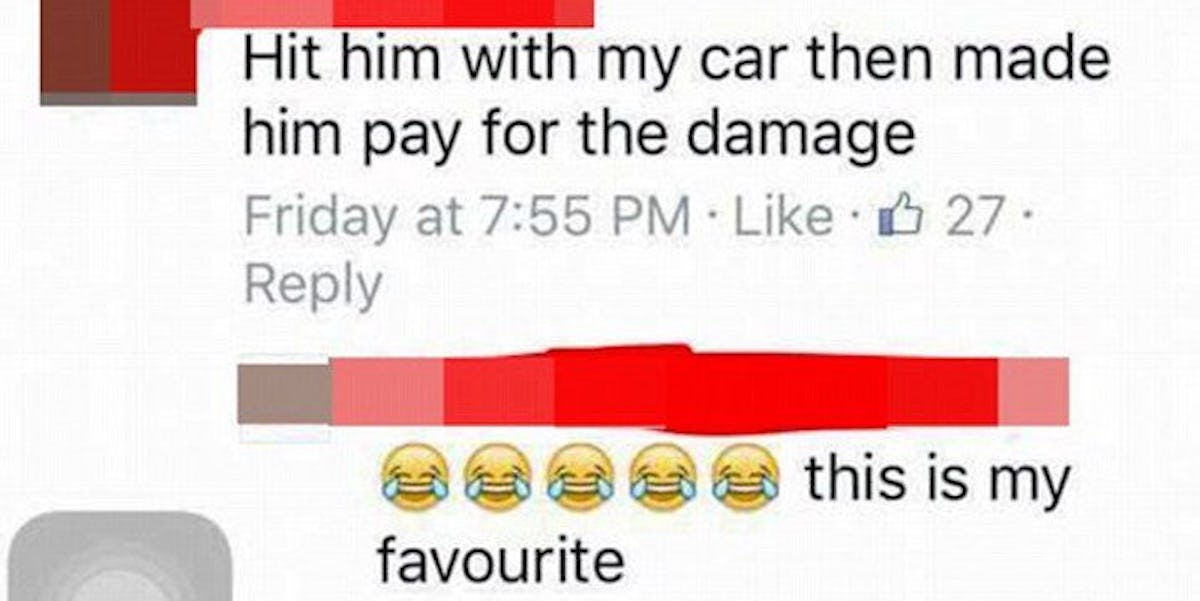 Women Brag About Assaulting Boyfriends In Facebook Group Called 'Bad Girls Advice'
Facebook
A Facebook thread has been uncovered that includes comments from women detailing stories of times they physically assaulted their significant others.
Screenshots from the private Australian group "Bad Girls Advice" emerged this past Thursday when a domestic violence support group shared them publicly, DailyMail.com reports.
The whole chain appears to have followed one group member's post, asking other members to provide examples of the worst things they've done "in a fit of rage" to their boyfriends.
She adds, "Please spare me the, 'if you're not happy leave' speech, it's just a fucking fight..."
In the thread, women brag about stabbing, punching and even hitting their boyfriends with their cars.
In one the most unsettling and graphic comments, one woman recalls reversing over her boyfriend with her car after stabbing him with a fork, in addition to throwing him out of the car, punching him in the nose and throwing bowls, remotes or "wateva" at his head.
The group has 173,000 members, all of whom could see the thread and its comments.
Many women commented saying the page was their "favorite" and "I'm legit laughing... I love this page!" Other women who shared their own stories of the violence they've carried out against their partners said their actions were "funny."
None of this is funny.
Another women comments, "Hahaha love it."
The statistics on domestic violence are staggering, and while it is more common for men to abuse women, it is not unheard of for assault to work the other way around.
In fact, reports from the National Coalition of Domestic Violence show that one in five women and one in seven men have been physically harmed by their partners in their lifetime.
Additionally, on any given day, 20,000 phone calls are made to domestic abuse hotlines, not taking into consideration the numbers of cases that go unreported.
A Bad Girls Advice group administrator, who asked to remain anonymous, told Daily Mail Australia the group was misrepresented, saying the group has "talked over 25 women out of suicide, helped hundreds of women find temporary homes and supplies after breaking away from domestic violence."
She said,
BGA is about so many things that are amazing, and this thread, which a fraction of women wrote on, does not define who we are. We help hundreds of women with a lot of different things, and we absolutely do not and never have condoned domestic violence against any gender. The vast majority of us are just women who need a space to express and explore our sexuality and talk about issues that are taboo in public.
The thread was deleted Saturday morning by the group's administrators, and all of the women who participated in the thread were removed from the group.
If you or someone you know is suffering from domestic violence, you can get help by calling The National Domestic Violence Hotline at 1−800−799−7233 or visiting their website at TheHotline.org.
Citations: Statistics (NCADV), 'I stabbed him with a fork and reversed over him in my car': The secret Facebook page where women brag about violence toward men Read more: http://www.dailymail.co.uk/news/article-4187912/Secret-Facebook-Bad-Girls-Advice-brags-domestic-violence.html#ixzz4Xe46lsfl Follow us: @MailOnline on Twitter | DailyMail on Facebook (Daily Mail UK)