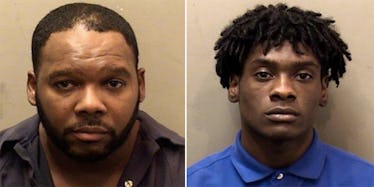 A Father And Son Are Being Accused Of Staging A Sexual Assault Together
McLean County Sheriff's Office
This news is absolutely stomach-churning. A son and his father have been accused of staging a sexual assault together.
According to The Chicago Tribune, the alleged incident occurred on July 19 at Illinois State University in Normal, Illinois. The father, Shawn Childs Sr., reportedly drugged an incoming female student so his son, Shawn Childs Jr., could rape her.
Adam Ghrist, First Assistant State's Attorney, says Childs Sr. stayed with the incoming students during the two-day orientation at their residence hall, which was unusual because parents don't stay in dorms with their children or other students. Childs Sr. then left the students to buy alcohol for them.
The alleged victim of the assault claims she saw Childs Sr. put a pill in her drink when he came back. She drank it. She began to feel sick after drinking it, so she retired to her dorm room. That's when Childs Jr. reportedly followed her and raped her twice.
The next morning, she went to the police, and while father and son were waiting for a train to go back to Chicago, the policemen arrested both of them.
Twenty-two ecstasy pills were found in Childs Sr.'s pocket. He is being charged with possession of a controlled substance with intent to deliver. His son, on the other hand, is being charged with four counts of criminal sexual assault.
He told police the victim was "messed up" when the alleged incident occurred.
Jay Groves, the Illinois State University Chief of Staff, said the unspeakable incident "has nothing to do with mischief and everything to do with terrible criminal behavior on the part of adults."
Childs Jr. doesn't have a record of criminal history, but his father has previous convictions for domestic battery, unlawful use of a weapon and attempted murder. He'll need to post exactly $20,035 to be released.
A July 29 arraignment is scheduled for both men.
Citations: Father Accused of Drugging Student at College Orientation So His Son Could Sexually Assault Her (NY Mag), Officials: Dad drugged student, son sexually assaulted her at ISU orientation (Chicago Tribune)