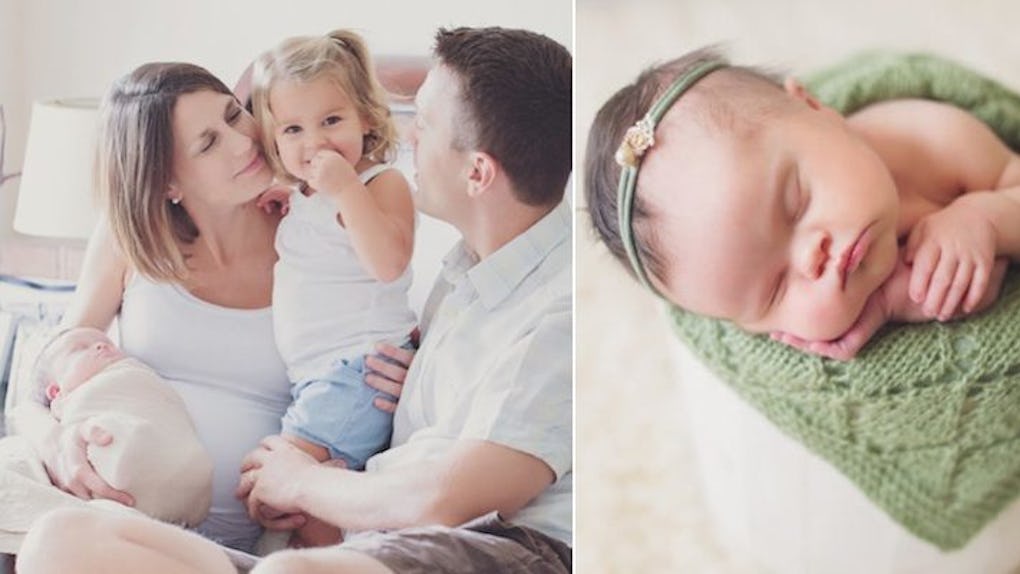 808 Photography
Family Takes Touching Photos With Newborn Daughter Who Has Brain Tumor
In just four short weeks, Erika Jones' life changed.
At 30 weeks pregnant, the mother-to-be received news no mother ever wants to hear: Her unborn daughter developed an inoperable brain tumor, and it was going to kill her.
Just a month earlier, Jones had a routine ultrasound, and everything was fine.
Her daughter, who was diagnosed with Down syndrome earlier in the pregnancy, was healthy. But in those four weeks, something changed.
Already so far along in her pregnancy, Jones held out hope her baby girl, whom she named Abigail, would recover.
But when Abigail was born on August 6, an MRI confirmed the tumor had grown.
There was nothing the doctors could do; chemotherapy would kill her, and an operation was out of the picture. So, Jones and her husband, Stephen, decided to take the baby home to care for her.
A local photographer named Mary Huszcza heard about the Jones family's tragic story, and so, she took a series of photographs of the beautiful little girl, which Erika and Stephen will undoubtedly cherish forever.
On August 6, Erika Jones gave birth to her daughter, Abigail Noelle Jones.
Born with a "massive" inoperable brain tumor, doctors said little Abigail would die shortly after her birth.
But she's a tough little nugget, and she managed to hold on so far.
Erika and her husband were prepared for tragedy when the tumor was discovered. Erika told ABC News, "The doctor prepared us that this was really bad."
Erika explained the tumor "came out of nowhere" after it was discovered 30 weeks into her pregnancy.
Heartbroken but still holding on to hope, Erika and Stephen brought little Abigail home.
She's loved by the entire family...
...including the Jones' 2-year-old daughter, Audrey.
Though Erika and Stephen know Abigail's prognosis doesn't look good...
...they say if she can't be healed in this life, they know she'll be healed in the next.
For now, the family is committed to giving Abigail all of the love they can.
Citations: Florida Family Takes Incredible Photos With Newborn Abigail Jones Who Was Diagnosed With Inoperable Brain Tumor (Medical Daily)