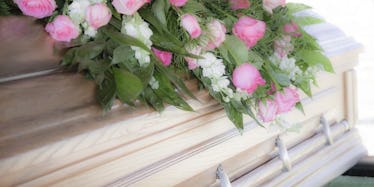 This Family Found A Complete Stranger In Their Grandma's Casket At Her Wake
Getty Images
A Washington DC family went to a viewing for a deceased relative and reportedly found the wrong woman in the casket.
According to Daily Mail, Virginia Ernestine Gray died at the age of 83 on February 19 after losing consciousness at her home earlier that day.
One week later, a viewing of the body was hosted by Gray's family at Horton's Funeral Home.
Relatives arrived to find a complete stranger in the casket, wearing the clothes brought to the funeral home for Gray, Daily Mail reports.
Gray's granddaughter Tawana Murphy told NBC Washington,
I saw the body of another female that wasn't my grandmother. My heart dropped. I was in disbelief.
Gray was reportedly scheduled to be buried the following day, which was last Saturday, after a religious ceremony at New Covenant Church Of the Lord Jesus Christ in Maryland.
Her grandson Quentin Gray now fears his grandmother was already buried.
He told a reporter,
We have a million and one thoughts going on with our grandmother -- where she is… all kinds of possibilities.
Prince George's Hospital Center said it is looking into the incident, but Horton's Funeral Home has yet to give a response to news outlets.
Virginia Gray leaves behind a daughter, four grandchildren and eight great-grandchildren.
The identity of the woman who was in her casket was not disclosed.
Citations: Family discover the WRONG woman in grandmothers casket at her viewing and the stranger was wearing their dead relatives clothes (Daily Mail), Family Says Wrong Woman in Casket at Grandmothers Viewing Body Lost (NBC Washington)