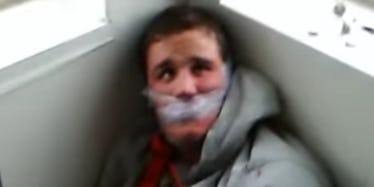 Four People Arrested After Cutting Man's Forehead With Knife On Facebook Live
YouTube
Facebook Live is being used to broadcast the unthinkable.
Whether you're live-streaming political debates with drunk family members or simply updating your fans after a long weekend off the grid, people are finding new ways to use the social networking giant's latest offering.
But what if I told you criminals were also using Facebook Live to broadcast them, well, committing crimes? Because, oddly enough, they are.
That was exactly the case when a gruesome attack on a man in Chicago was live-streamed on Facebook by the assailants themselves.
Now, I know what you're thinking...
WHY would any sane criminal ever broadcast their crimes for everyone to see? Well, "sane" criminals don't really exist. So, there's that.
A horrifying 30-minute video clip of a man tied up in a corner and beaten in a Chicago apartment is making its rounds on the internet.
According to CNN, a young woman streamed the footage of her and three others (another female and two males) terrorizing a man in Chicago for unknown reasons.
However, what can be heard in the video are men chanting "fuck Donald Trump" as well as "fuck white people." The suspects then kicked and punched the man repeatedly before cutting into his forehead with a knife.
A second video circulating on social media appears to show the same man being forced to drink toilet water just before being forced to utter the words "fuck Trump."
The report states the victim of the crime is an 18-year-old man with special needs. He was believed to be "taken from the suburbs."
Sparking the investigation, the victim was found wandering the streets of Chicago "in crisis" just before law enforcement scooped him up and escorted him to a nearby hospital on Tuesday afternoon.
In a statement regarding the violent incident, Chicago Police Department Superintendent Eddie Johnson said,
It's sickening. It makes you wonder what would make individuals treat somebody like that.
Commander Kevin Duffin also spoke to reporters saying the 18-year-old did recognize one of his attackers to be a student at a school in his suburban neighborhood.
It's quite a possibility that this is a kidnapping and that's certainly one of the charges we'll be seeking if it turns out to be that. But, he's traumatized by the incident and it's tough to communicate with him at this point.
The Chicago Police Department is currently investigating whether or not the crime will result in kidnapping charges for the suspects despite the fact the 18-year-old victim may have voluntarily entered a vehicle with his attackers.
The department is also investigating whether or not the incident will be labeled a hate crime since the victim was white and the suspects were black.
As for president-elect Donald Trump's name being mentioned during the brutal attack, the Chicago PD does not believe the attack was politically motivated.
Supt. Eddie Johnson explained,
I think some of it is just stupidity, people just ranting about something that they think might make a headline. I don't think that at this point we have anything concrete to really point us in that direction, but we'll keep investigating and we'll let the facts guide us on how this concludes.
Commander Duffin added,
If you commit an act of violence in the city of Chicago you will experience the full weight of the Chicago Police Department. Tonight, four individuals have felt the consequences of their actions.
The four suspects have been arrested. Charges against the suspects are expected to be filed sometime within the next 24 hours.
The original video footage of the assault has since been taken down from Facebook.
Warning: The video below contains graphic footage that may be disturbing to watch.
Citations: 4 arrested in beating broadcast on Facebook Live (CNN)