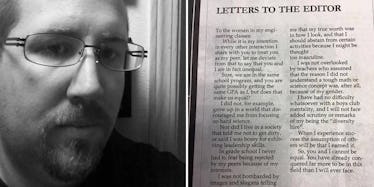 Engineering Student's Letter To 'Unequal' Female Peers Is Everything
Facebook
Eastern Washington University senior Jared Mauldin will never see the female members of his mechanical engineering major as equals, and when he enters the workforce after graduation, it is unlikely his opinion will change.
In a letter to the editor of EWU's newspaper, Mauldin addressed "the women in [his] engineering classes." He wrote,
You and I are in fact unequal… I did not, for example, grow up in a world that discouraged me from focusing on hard science. Nor did I live in a society that told me not to get dirty, or said I was bossy for exhibiting leadership skills.
A photo of the full letter as it appears in The Easterner was shared nearly 40,000 times on Facebook, with commenters praising Mauldin's words.
"To the women in my engineering classes," writes Jared Mauldin, a senior at Eastern Washington University. "While it is... Posted by A Mighty Girl on Wednesday, October 7, 2015
In an interview with the Huffington Post, Mauldin said he has witnessed many instances of women and girls struggling against discouragement within STEM fields. He recalled one occurrence in which a woman in his calculus class was criticized, disrespected and sometimes completely unacknowledged due to her gender.
Still, the student, who teaches tech classes to children in elementary and middle school, claimed the sexist behavior is old news that is yet to be properly addressed. He suspected his post may have garnered excessive traffic due to being penned by a man, which he said is not the best sign.
He said,
Nothing I said was new, it has all been said a thousand times before. The difference is that I am a man. Maybe by standing up and breaking the silence from the male side, I can help some more men begin to see the issues, and begin to listen to the women who have been speaking about this all along.
Emma Watson, who helped launch the HeForShe campaign, is surely proud.
Citations: Male Engineering Student Perfectly Explains Why Female Classmates Aren't His Equals (Huffington Post)