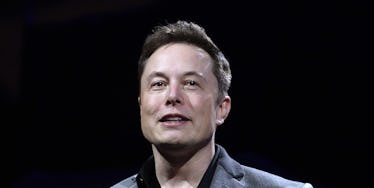 Elon Musk Took A Huge Sh*t On Apple And Called It The 'Tesla Graveyard'
Getty Images
Elon Musk took a big, shiny, energy efficient EPA-rated dump on Apple.
During a recent interview, innovator and real-life Tony Stark, Elon Musk, had some strong words for Apple and its reported attempt to build an electric car.
When asked by the German newspaper Handelsblatt what he thought about the tech rival reportedly poaching engineers from Tesla to staff the Apple car project, Musk responded with a mic-drop-worthy statement.
Musk said,
[Apple has] hired people we've fired. We always jokingly call Apple the 'Tesla Graveyard.' If you don't make it at Tesla, you go work at Apple. I'm not kidding.
DAYUMMMMMMMMMM
MUSK
SAID
IT.
He wasn't done there dropping little anti-Apple nuggets.
Just after that response, Musk jokingly answered a question about whether he thought the Apple car was a legitimate threat to Tesla. He simply answered,
Did you ever take a look at the Apple Watch?
iBURN 6S
In Apple's defense, as much as Musk has been vocal about Apple's attempts at recruiting Tesla talent, Tesla isn't exactly squeaky clean when it comes to hiring strictly homegrown talent.
Bloomberg reported in February Tesla employed around 150 engineers, HR types and lawyers from Apple to boost its own ranks.
So yes, technically both companies are guilty engineer poachers, but until Tim Cook goes on C-SPAN to call Musk a "punk-ass weak sh*t that bends more than an iPhone 6 in a jean pocket," I'm still gonna be #TeamMusk on this whole thing.
Your move, Cook.
Citations: Elon Musk If you don't make it at Tesla you go work at Apple (Mashable), All Charged Up in Berlin (Handelsblatt), Want Elon Musk to Hire You at Tesla? Work for Apple (Bloomberg), Apple hopes to avoid another 'bend-gate' by using super strong aluminium: Metal used to make sports bikes to boost new iPhone (Daily Mail)