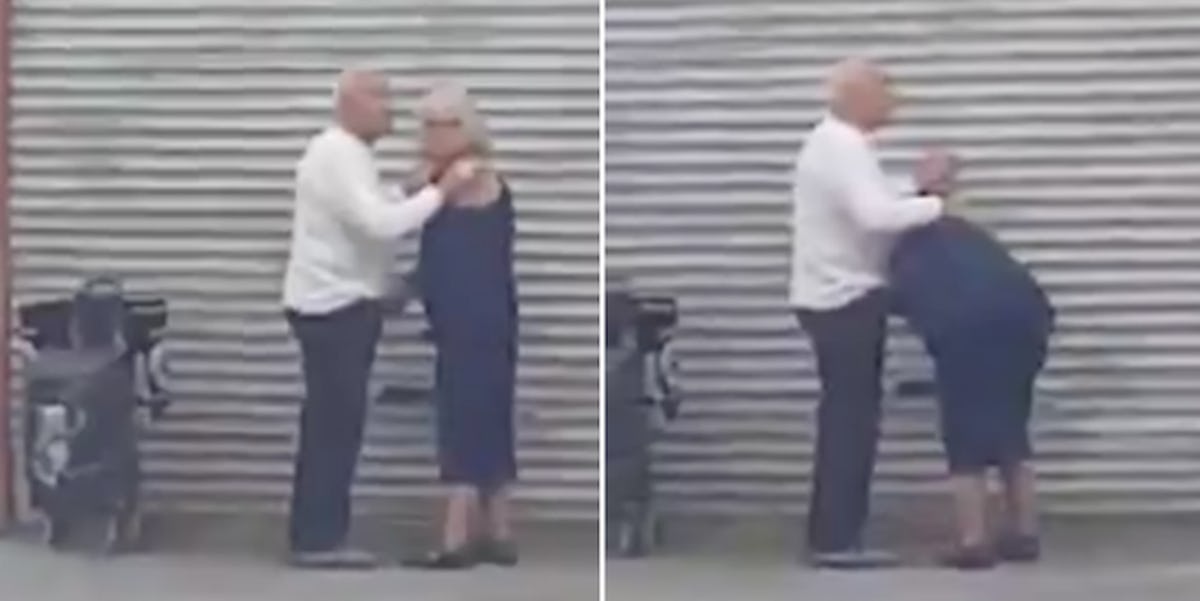 Elderly Man Caught Getting Blowjob From Woman In Public In Oddly Romantic Video
LiveLeak
Let's not beat around the bush.
You're here to see some old dude have his dome chromed.
Well, you've come to the right place — someone has managed to film an older lady give her man a BJ in what looks like a public place.
And when I say "older lady," I'm being polite. These two are no spring chickens, let me tell ya.
But this isn't some crude video that will make you feel like you need to wash immediately afterwards.
Nope, it's actually strangely romantic. Imagine being that into someone that you're in your 70s or 80s and you still can't wait until you get home.
If that's not #RelationshipGoals, I don't know what is.
The short clip starts as it means to go on, with the elderly woman clearly undoing the old timer's pants so she can get to his man cannon as he tenderly places a hand on her shoulder.
They both nervously look around to make sure no one is there — apparently not noticing the guys giggling away as they film the whole damn thing.
And then, before you've really registered what's about to happen, she slowly bends down while he remains on the lookout like a chief meerkat.
The false teeth fellatio lasts 14 glorious seconds before the gentleman taps his lady on the back, bringing the ecstasy to an early end.
What could have possibly happened to halt the beej?
Surely, surely he wasn't about to, erm, unload? Or maybe he noticed someone saw their not-so-subtle act of love?
Either way, that's that (until they get home, anyway).
And, because he's an old-fashioned gent who believes in kissing the lady on the lips after receiving the kiss of love, he happily obliges when she puckers up.
It just proves that when it comes to blowjobs, age knows no bounds.
Yes, we laugh — but come on, you can only hope you're getting that much action when you're their age.
Citations: Grandpa just love (Live Leak)