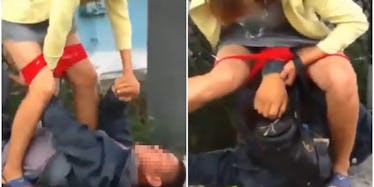 Drunk Girl Filmed Removing Underwear And Trying To Sit On Man's Face In Public
LiveLeak
Shocking footage has emerged of a woman attempting to force a man to perform oral sex on her in public.
The video, which was posted on LiveLeak, shows two people sitting on a concrete block outside.
It opens with the woman lying on her back with a man between her legs. The woman is holding the back of his head and pulling him down to her genital area.
The man is clearly resisting.
After a full minute of trying to get the man closer, she sits up and appears to snack on a giant sausage for a while.
The man takes a bite of the same thing before she attempts to pull his head back down.
Suddenly, the woman slaps him across the face and stands up. He takes a bottle off the concrete block, but the woman snatches it out of her hands, then bends over and pulls up her skirt revealing her underwear.
She then gets up on the concrete block, approaches the man from behind and pulls down her underwear.
The man goes to get up but she grabs him by the jacket and forces him to lay underneath her.
The scene becomes aggressive as she squats over his face and spars his attempts to free himself.
He pushes her back, then the woman stands up and kicks him in the face for avoiding her advances.
The pair appears to sway back and forth, suggesting they are both intoxicated.
You can watch the graphic, uncensored video here on LiveLeak.
The incident looks to have been filmed in Russia. Two people can be heard laughing throughout the incident.
Neither the woman nor the man seems to notice they are being filmed by a passerby.
It is not known when the incident took place and whether or not it has been reported to the police.
Citations: Love in Russia (LiveLeak)