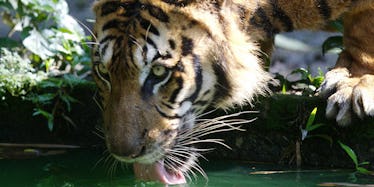 33-Year-Old Woman Bitten By Tiger After Breaking Into Zoo While Drunk
Getty Images
An allegedly intoxicated woman was bitten by a tiger when she sneaked into an Omaha zoo over the weekend.
According to The Washington Post, 33-year-old Jacqueline Eide was somehow able to enter Henry Doorly Zoo and Aquarium on Sunday before it opened, possibly as early as 4 am.
Zoo officials believe she wanted to pet a tiger and, therefore, likely reached into the cage of 18-year-old Mai, a Malayan tiger who had her front, left leg amputated as a baby after she was found in a poacher's trap.
On the zoo's website, Mai is described as "very friendly" for an animal from the wild, and she lived at the zoo since 2003.
Eide suffered severe trauma on her trespassing operation after being bitten on the hand. She was taken to Creighton University Medical Center by a friend and is currently being treated there.
Police arrived at the hospital a little after 7:20 am after receiving a call about Eide causing trouble, the Omaha World-Herald reports.
She was said to be exhibiting hostility toward hospital staff, along with "signs of intoxication of alcohol and/or drugs," according to a police report.
Police cited Eide for criminal trespassing.
Yesterday, in a statement on the zoo's Facebook page, Zoo executive director and CEO Dennis Pate said,
The safety and security of our guests and animals are always a priority at Omaha's Henry Doorly Zoo and Aquarium.
He added the zoo's security measures increased to now include cameras, staff members who work around the clock and computer-controlled locks that reportedly surveil those who enter and leave the location.
The zoo released another statement Sunday evening that read,
Thank you everyone for your concerns about Mai, our Malayan tiger. Mai will remain on display as normal and go about life as usual. No action will be taken against her.
Zoo officials are now examining security footage to determine how Eide entered the zoo unnoticed.
Citations: Allegedly intoxicated woman gets bitten after sneaking into Omaha zoo to pet a tiger (The Washington Post), Womans hand severely injured after she reaches into cage to pet tiger at Henry Doorly Zoo (Omaha World-Herald)