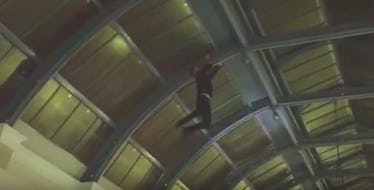 Scary Video Shows Drunk Guy Falling From The Ceiling In Magic Stunt Gone Wrong
MailOnline
A magician narrowly cheated death after surviving a 25-foot drop from a ceiling onto a tiled floor.
In a drunken stunt gone wrong, the man scaled a pillar and began swinging from rafter to rafter on the ceiling, treating them like monkey bars.
Fellow magician Arron Jones, 23, captured the terrifying incident on camera during the Blackpool Magic Convention at Blackpool's Winter Gardens last weekend.
Panicked shouts can be heard in the background as the man, who is in his 20s, swung treacherously from the roof.
After falling approximately 25 feet to the tiled floor, the drunken magician landed on his back and hit his head. Though he ultimately survived his brush with death, the man was rushed to the hospital with serious injuries.
Jones, from Sheffield, told MailOnline a crowd of people attending the magic convention had stayed late after the last show on Saturday night. It was past midnight on Sunday when the magician began to climb the ceiling.
Jones said,
All of a sudden I saw this guy start to shimmy up one of the pillars to the roof. I just stood there thinking, 'What is this idiot doing?'
Bouncers had apparently come to the scene and yelled at the man to come back down, but he refused.
Once the magician got to the steel beams on the ceiling, Jones said the atmosphere in the hall completely changed, as people began to genuinely fear for the man's life. He added,
When he got to the top, there was no point telling him to stop. He either had to keep going or come back.
In the video, several people are heard screaming when the man lost his grip and fell to the floor.
He was taken to the Royal Preston Hospital, where he currently remains.
Another magician at the convention, David Penn of Northampton, witnessed the fall, calling the man's actions "reckless."
He told MailOnline,
When alcohol gets involved, people start to believe they really are magic. It was like he thought he was trying to fly or he thought he was some kind of superhero.
It is believed the man has since been given a lifetime ban from the Blackpool Magic Convention, which is the largest of its kind in the world.
Organizers of the Blackpool Magic Club have declined to comment on the incident.
Citations: Heart-stopping moment a 'drunken' magician survives plummeting 25ft onto a tile floor while 'monkey-barring' across ceiling rafters at a convention (MailOnline)