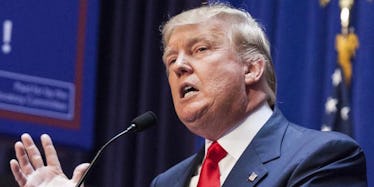 Donald Trump Did Not Correct Man Who Said President Obama Is A Muslim
Ghetty Images
Donald Trump recently refused to correct a supporter's claim President Obama was Muslim.
According to ThinkProgress, the Republican presidential hopeful was fielding questions from audience members at a campaign rally in New Hampshire Thursday night when a man, who said he was from White Plains, declared,
We have a problem in this country. It's called Muslims. We know our current president is one. You know he's not even an American.
The audience member, who appeared to be in his 40s or 50s, declared there were numerous "training camps" in the US where Muslims plot attacks. He then asked,
When can we get rid of 'em?
It's not clear if the man was referring to these "training camps" or every single Muslim living in the US.
Trump didn't exactly confirm the man's suspicions, but he also did not deny the president was indeed a Muslim foreigner.
In reference to the supposed "training camps," he said,
We're gonna be looking at that and plenty of other things.
Afterward, Democratic hopeful Hillary Clinton weighed in on Trump's response to the audience member.
She's right. "Cut it out," Trump.
Citations: Man Asks Trump: 'When Can We Get Rid' Of All The Muslims In America? His Answer Was Horrifying. (ThinkProgress)