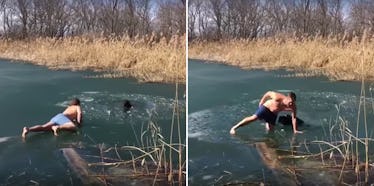 Dog Pulls Guy's Underwear Down As He Attempts To Save The Dog From Frozen Lake
YouTube
A generous brother named Colin just raised the bar extremely high when it comes to being a good sibling.
It's going to be awfully difficult for the rest of us to top this. That's for sure!
Colin was tasked with rescuing his brother's dog from a frozen lake. Obviously, no one should ever attempt a stunt like this without having it recorded.
Luckily for the internet, Colin and company were sure to film his good deed...
In the minute-long video, Colin strips down to his underwear just before stepping onto the frozen lake to save his brother's dog.
He's got a long way to go...
At this point, onlookers begin to warn Colin his rescue mission might not be such a great idea.
The doubt from the crowd doesn't stop him, though. He keeps going.
ALMOST THERE...
Eventually, Colin reaches his brother's dog Copper. He never saw it coming, but the sheet of ice over the lake gave way just as he was about to grab Copper.
Now, he's faced with another rescue mission: stopping the dog from pulling his underwear off as he tries to save him from the frigid lake.
He stands up in an effort to pull them up, but to no avail.
The ice gave way yet again as he fell into the lake once more.
Finally, underwear intact, Colin is able to push through the ice and make it out of the lake with Copper.
Check out the hilarious video below!
At last, Colin was able to accomplish the task at hand. It wasn't easy, and he almost flashed his entire family thanks to Copper, but he was able to pull through. Well done!
Now, someone grant this guy a lifetime supply of Hanes ASAP.
Citations: Guy rescues his brother's dog that fell through a frozen lake (Mashable)