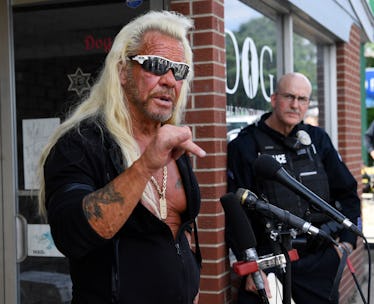 Dog The Bounty Hunter Admits Even He Couldn't Take Down El Chapo
Andy Cross/MediaNews Group/The Denver Post via Getty Images/Denver Post/Getty Images
Dog and Beth: On the Hunt star Duane "Dog" Chapman is usually confident in his ability to capture fugitives.
However, there are some criminals who are too complicated to catch, even for this reality star bounty hunter. Take Mexican drug lord Joaquín "El Chapo" Guzmán, who escaped prison earlier this month, for example.
Chapman reportedly told FOX News,
He would probably be out of my league... In order to take him down, number one, you better have a fully automatic weapon. With my weapon, you have to get really close to him — and you couldn't get that close to him because he probably has five or six guys with him at all times.
He added,
There would have to be two or three of you to take him down because he is going to shoot it out next time. Last time, I heard they surrounded him and gave him a chance to come out.
Although the exact whereabouts of Mexico's most wanted criminal remains a mystery, Chapman believes Guzmán is likely hiding out in Mexico.
Citations: Bounty Hunter Dog Chapman El Chapo is out of my league (Fox News )