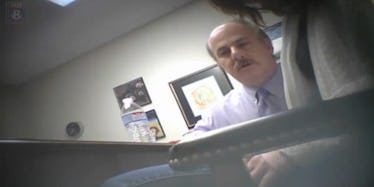 Divorce Lawyer Caught Hypnotizing Clients For Sexual Pleasure In Creepy Video
Sheffield Police
Hidden cameras are a great way to catch criminals in the act.
For example, consider this divorce lawyer who was recently caught hypnotizing clients for sexual pleasure on camera.
That's right. It appears Michael Fine, a 59-year-old divorce attorney from Ohio, has a lot of explaining to do after police captured the man hypnotizing a female client for his own sexual desires on video.
Fine first appeared on the Sheffield police department's radar when a woman claimed that her lawyer, Fine, was trying to take advantage of her sexually while "relaxing" her before meetings with hypnosis.
Apparently, the woman had gone to the police when she realized she had lost track of time during a prior meeting with Fine, and noticed her clothes looked disheveled upon leaving the lawyer's office.
After the complaint, Sheffield police set up a sting operation to catch the lawyer red-handed and sent the woman into Fine's office wearing a hidden camera in November 2014.
As the meeting commences, you can hear Fine say,
Let's take a deep breath ... one more time. OK, I gotta calm down, let's do this together.
Fine continues his attempt to hypnotize the woman, stating,
Each time I say the word 'sleep,' you're gonna go deeper and deeper, 10 times deeper. One, two, three, sleep ... one, two, three sleep.
Eventually, the relaxation sessions moved to the couch in Fine's office, where things escalated to a sexual level.
While the woman's eyes are closed, Fine moves his face closer to the unsuspecting woman and says,
Every time I say the word "pleasure," you cannot constrain or hold yourself back, your entire body is a vessel of pleasure.
Then he asks the woman,
When is the last time you made love?
He continues the hypnosis, saying,
Every time I touch you, it's gonna be an incredible sensation. At the count of three, you won't be able to control yourself.
After several minutes of hypnotizing the woman, Fine wakes the woman from the trance.
As he starts discussing the woman's legal affairs, police stop the meeting by barging into Fine's office.
The woman wearing the hidden camera isn't the only victim Fine tried to put under his sexual spell, either.
In September 2016, Fine confessed to hypnotizing five other women in a similar manner.
During a court hearing in November, one of Fine's victims told the jury,
He used my trust and his position as my attorney to gain information about my vulnerabilities. He then used that information not only to protect and defend me, but also to manipulate, hurt and take advantage of me.
Fine was sentenced to 12 years in prison as a result of his actions.
Citations: Disturbing video released of attorney hypnotizing clients for sexual pleasure (Fox)