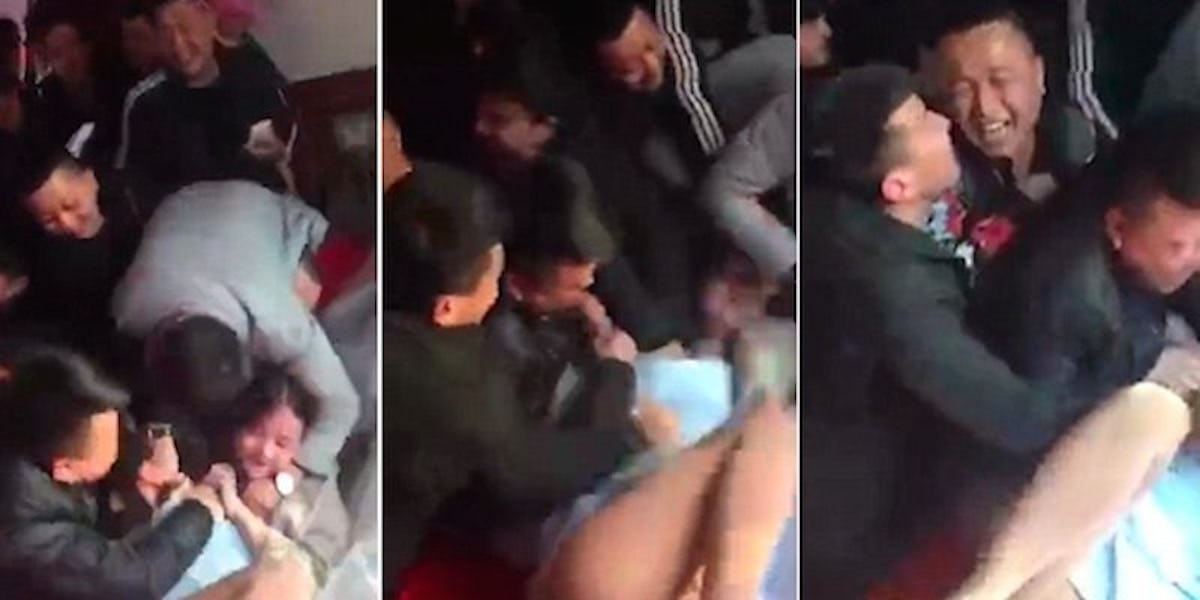 Disturbing Video Shows Male Wedding Guests Pinning Bridesmaid Down To Grope Her
Miaopai
A wedding is supposed to be a happy, joyous occasion that celebrates love — not some sort of event that serves as the perfect opportunity to gang up on an poor, defenseless woman and sexually harass her.
A disturbing video just surfaced online showing a bunch of male wedding guests pinning a bridesmaid down in order to grope her, MailOnline reports.
Unfortunately, this is just one of many Chinese weddings videos that have ended up online and show the crude behavior of the guests.
In the shocking video, you can see the woman being pushed onto a bed by several suit-clad men.
The group of male guests in the video pin the woman down on the bed and begin to molest her as she struggles to break free of their grasp. At one point, you can even see a man press his hand over the bridesmaid's face to keep her from getting up.
The women tries to cover her chest while the men fondle her, however, this doesn't stop one guest from slipping his hand up the woman's dress to grab her breasts.
The worst part about this whole thing is that this video shows all of the men smiling and laughing as they sexually assault this poor bridesmaid.
At least a dozen other men were in the room when the attack occurred. However, none of the bystanders stepped in to help.
Instead, they cheered on the men carrying out the attacks and snapped photos with their cell phones.
The 10-second clip was uploaded to the video-sharing platform Miaopai on Monday, December 19,  by the username "Happy Zhangjiang," along with the caption "It is too disgusting. A video shows a bridesmaid being molested at a wedding."
The person also condemned the wedding guests, writing, "Are you sure these men are not zombies invading the house?"
The video since been viewed over 1.7 million times and now a lot of people are speaking out about the wedding guests ghastly behavior.
One user condemned the male guests saying, "They are a group of beasts" while another person stated, "These wedding antics should be abolished."
Now seems like a good time for these wedding guests to swap out the sexually aggressive wedding games for something that's a little more appropriate, not to mention, a whole lot less traumatizing.
Citations: Shocking wedding footage shows bridesmaid being groped by SEVEN laughing guests while others watch and record the assault (MailOnline), The Sun, Miaopai