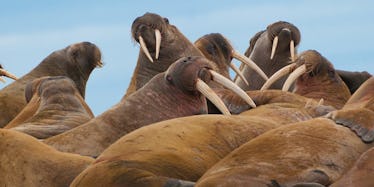 25 Walruses Were Shot In Alaska And Someone Took Their Penises
Shutterstock
Federal prosecutors officially opened a criminal investigation into the apparent cold-blooded murder of 25 walruses in Alaska.
All 25 of the walruses — 12 adults and 13 pups — appeared to have been shot and left for dead.
Grisly photos reportedly taken on scene show some walruses missing tusks and others completely missing their heads, raising fears the animals were killed solely for the ivory trade.
Some of the animals also appeared to be missing their oosiks -- the valuable walrus penis bone that can grow to about 2 feet.
Here's a 150-year-old oosik next to a walrus tusk:
Hunting and killing a walrus without eating its meat or using the animal for different purposes is a serious crime.
And if you hunt one and you're not an Alaskan native, you're screwed.
Thanks to the federal Marine Mammal Protection Act, only Alaskan natives are allowed to hunt the majestic sea/land beast.
The law also requires the hunters to, at a minimum, harvest the heart, liver, flippers, chest meat with blubber and some red meat. Violators face a maximum $100,000 fine and one year in prison.
This, however, isn't the first walrus massacre in Alaska. In 2007, 79 walrus carcasses washed up on local Anchorage shores; all of them were missing their heads and tusks.
Most of the bodies were riddled with bullet holes.
However, Andrea Medeioros with the US Fish and Wildlife Service said locals shouldn't jump to the conclusion of foul play.
Medeioros told KNBA News,
We can't say with any certainty what for one the cause of death here was. You know, these animals, from the photos, do appear to have their heads taken off, but we can't make any assumptions that that's why they were killed, if they were in fact killed. You know, people can take the heads if they find a dead walrus on the beach.
Still, local hunters are none too pleased to see so many perfectly good animals go to waste. Local Alaskan walrus hunter Steve Oomittuk additionally noted to KNBA,
This kind of stuff we don't tolerate, and you know the animals have always been a food source for us. And we were never taught to waste or anything like that. So we just want to get to the bottom of this and we find out what exactly happened. And if they have gunshot wounds and everything and the heads were gone then someone's doing something that should not ever be done.
But poaching isn't the only thing walruses have to worry about. Thanks to climate change, the walrus is rapidly losing its home.
Over the last few weeks, an estimated 35,000 walruses have made their way to shore after the ice sheets they once lived on melted.
To make matters worse, September is when Arctic sea ice hits its summer low at 1.7 million square miles, down 240,000 square miles since 2014, according to the National Snow and Ice Data Center. And as the Associated Press reported, this year marks the fourth-lowest level on record for minimum summer sea ice.
Citations: Agency investigates deaths of 25 walrus on Alaska coast (Big Story), Walrus Deaths reported near Cape Lisburne (KNBA)