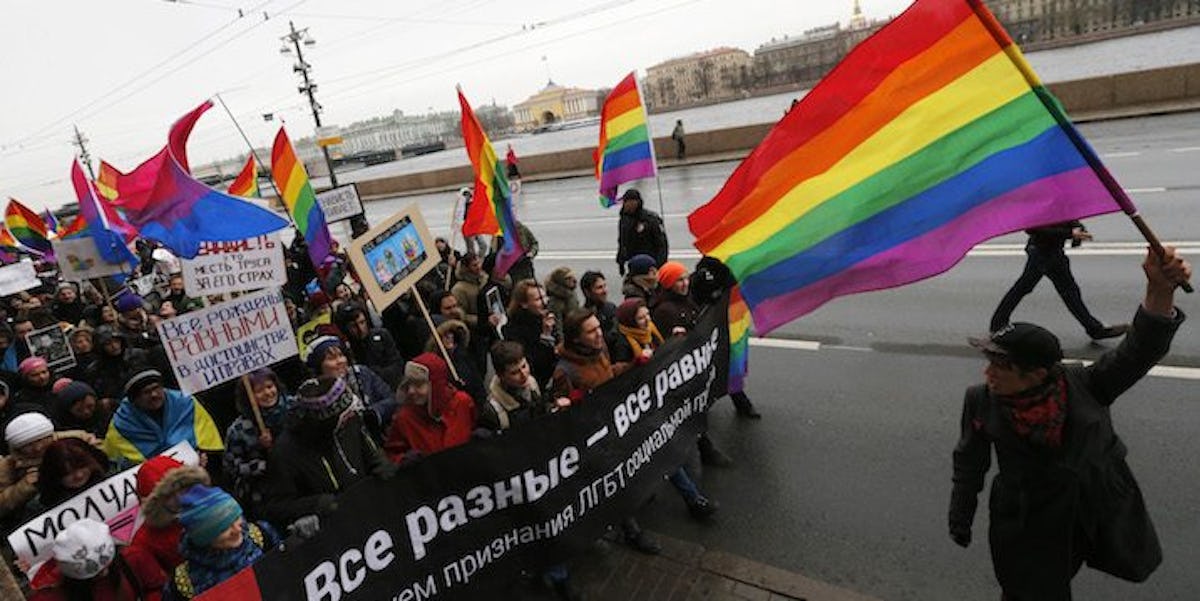 Rumors Are Spreading Gay People Are Being Put In 'Death Camps' In This Country
REUTERS
Despite the progress we've seen in many parts of the world, some cultures still discriminate abhorrently against the LGBTQ+ community.
Chechnya, which is a federal subject of Russia, has reportedly begun opening concentration camps for those who identify as gay. People in these camps are tortured with electric shocks and severely beaten simply because of their sexual orientation.
The concentration camp is said to be the first of its kind in the world since Hitler was in power, according to MailOnline.
Svetlana Zakharova, from the Russian LGBT Network, told MailOnline,
Gay people have been detained and rounded up, and we are working to evacuate people from the camps and some have now left the region. Those who have escaped said they are detained in the same room and people are kept altogether, around 30 or 40. They are tortured with electric currents and heavily beaten, sometimes to death.
At least 100 gay men have been detained and three have been killed, The Huffington Post reports.
One prisoner who managed to escape told Novaya Gazeta, a Russian newspaper, prisoners were often beaten to force them into revealing other members of the gay community, MailOnline reports.
Another man who fled one of the camps said — before he was incarcerated — he was forced to pay monthly bribes to Chechen police just to avoid being killed.
Alexander Artemyev, from Amnesty International in Russia, told MailOnline about the intense fear the gay community in Chechnya must grapple with on a daily basis.
He said,
They either have to hide or leave the republic. We are keeping in touch with the LGBT network that helps people in Russia to find shelter. The problem is people there cannot talk about it as it puts their lives, and those they speak to, in danger. This is the main issue we are facing in Russia and the main challenge.
Tanya Lokshina, from Human Rights Watch in Moscow, explained the palpable climate of fear in Chechnya, which has intimidated many people into silence.
According to Human Rights Watch, she said,
It is difficult to overstate just how vulnerable LGBT people are in Chechnya, where homophobia is intense and rampant. LGBT people are in danger not only of persecution by the authorities but also of falling victim to 'honor killings' by their own relatives for tarnishing family honor.
President Ramzan Kadyrov, an ally of Vladimir Putin, allegedly ordered the clampdown on the gay community, although his regime previously denied making any arrests, claiming "it is impossible to persecute those who are not in the republic."
Kadyrov's spokesman, Alvi Karimov, told the Interfax News Agency,
You cannot arrest or repress people who just don't exist in the republic. If such people existed in Chechnya, law enforcement would not have to worry about them, as their own relatives would have sent them to where they could never return.
Basically, authorities in Chechnya seem to deny the very existence of the gay community in their area, while simultaneously rounding them up into concentration camps.
If you still think history doesn't repeat itself, I strongly suggest you think again.
Citations: Chechnya opens world's first concentration camp for homosexuals since Hitler's in the 1930s where campaigners say gay men are being tortured with electric shocks and beaten to death (MailOnline), Chechnya Opens 'Concentration Camps For Gay Men' (The Huffington Post), Massacre of Chechen gay (18+) (Novaya Gazeta), Anti-LGBT Violence in Chechnya (Human Rights Watch)