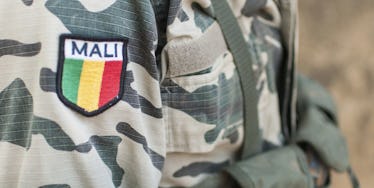 Dozens Of Hostages Freed After Mali Hotel Attack, At Least 27 Left Dead
Getty Images
Dozens of hostages from around the world were freed after Islamic extremists took over an African hotel earlier today.
According to Al Jazeera, around 10 gunmen stormed the Radisson Blu in Bamako, Mali and shot several guards before taking as many as 170 people hostage.
Malian security forces surrounded the hotel and were soon joined by at least 40 French troops, USA TODAY reports.
American troops were reported to be involved as well, but a defense official told ABC News just one American was at the scene transporting hostages to safety.
The 190-room hotel is reportedly very popular for westerners and large organizations working in the area like the United Nations Peacekeeping missions.
At least 27 people were killed, a senior United Nations official told The New York Times.
It is unclear if that number includes the two gunmen who were killed by security forces.
The siege went on for about seven hours before it was reported all of the remaining hostages were freed.
BREAKING: #Mali hotel siege reportedly over. 27 killed. — Elite Daily (@EliteDaily) November 20, 2015
Al Jazeera cited a state broadcaster's report that 80 hostages were released.
The safely-evacuated guests, so far, include three UN workers, 20 Indian nationals, six Americans, 12 Air France crew members and five crew members from Turkish Airlines.
Several gunmen are reportedly still holed up inside the hotel, however, preventing troops from regaining the building as of yet.
Belgian parliament member Geoffrey Dieudonné, who went to Mali to train local government officials, was killed by the gunmen, ABC News reports.
A Malian group affiliated with al-Qaeda called Al-Mourabitoun reportedly claimed responsibility for the attack on Twitter.
Witnesses said numerous guests were forced to recite verses from the Quran before being allowed to evacuate safely.
A separate al-Qaeda-affiliated group took over a Kenyan mall in 2013 and reportedly gave hostages similar instructions.
Citations: 'No more hostages' as Mali hotel stormed (Al Jazeera), At least 27 killed in Mali hotel siege; 2 gunmen dead (USA TODAY), Mali Hotel Attack: 6 Americans Among the Rescued as Hostage Situation Ends (ABC News), Mali Hotel Attack Leaves Dozens Dead; Siege Appears Near End (The New York Times)