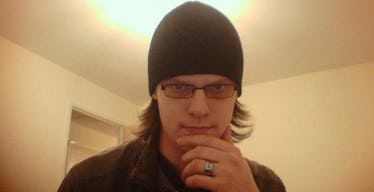 Dad Who Abused Baby So Badly She'll Never Walk Again Blames 'Ghost' For Crime
Facebook
A man who was jailed for beating his then 5-week-old baby so badly she'll never walk again blamed his actions on a "ghost-like" alter ego, it has emerged.
Rocky Uzzell, 29, was given a prison sentence alongside Katherine Prigmore, 24, last year for the sick abuse on their daughter, Isabelle.
The child is expected to be fed via tube and wheelchair-bound for the rest of her life.
New details about the case have been revealed by Mr. Justice Keehan, who oversaw the High Court litigation in the UK, and has decided to share findings because the criminal proceedings have ended.
A family court hearing in May 2015 heard how the ghost-like alter ego would take over Uzzell's body and force him to try to kill the baby.
The judge dismissed this ghost, claiming Uzzell created this alter ego as an "imaginary protector."
The alarm was raised when police were called to a home in Kettering, Northampton, on March 20, 2014. Prigmore was the one who called emergency services claiming Isabelle's limbs had gone limp.
The baby was taken to hospital where a scan revealed she had swelling on the brain. The little girl had also suffered a fractured leg and forearm. These injuries were found to be consistent with squeezing.
The couple was overheard saying they could go out to eat at a restaurant while Isabelle was in hospital.
When police seized the mobile phones discovered at the house, they found disturbing footage of Uzzell abusing the baby. Laughter can be heard in the background.
In another clip, Isabelle's head was covered with something as she vomited. The girl is believed to have been assaulted on at least six separate occasions.
The pair pleaded guilty to allowing a child to suffer serious physical harm in September last year.
Uzzell was jailed for eight-and-a-half years and Prigmore received two years and four months.
Citations: Father, 29, who beat his baby daughter so severely that she will never be able to walk or talk blamed the abuse on a 'ghost-like' alter ego who told him to 'get rid' of the child (MailOnline), Couple who left newborn with 'catastrophic injuries' to go to Nando's have been jailed (Metro)