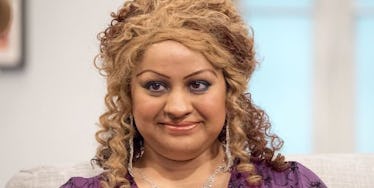 Woman Kept As Slave In Rapist Dad's Cult Reveals His Disturbing 'Cuddle' Rules
Rex
A woman who was raised within a cult run by her violent, abusive father has spoken out about the horrors of her childhood.
Katy Morgan-Davies, 33, remembers speaking to water taps and attempting to befriend mice -- because she had no other companions.
She finally escaped the Maoist cult's London HQ in 2013 -- but her upbringing left her with no social skills. She was unable to use basic appliances or even cross the road.
It was only after her release she realized the cult leader Aravindan Balakrishnan, also known as Comrade Bala, was her father.
Balakrishnan was jailed last year for 23 years, charged with rape and false imprisonment. The story of his cult is being told in a BBC documentary, "The Cult Next Door," which has been viewed by the Daily Mail.
He ruled the cult in an ordinary-looking home in Brixton, south London, by terrifying its members, who were mainly women.
He forced them to carry out sexual acts, warned them they would die if they left the house and threatened them with an invisible war machine called Jackie that he claimed was responsible for natural disasters, and was triggered by their bad behavior.
Katy, the daughter of Balakrishnan and Sian Davies, a former student who became involved with the cult, was named Prem Maopinduzi, meaning "Love Revolution," and was told her destiny was to help Comrade Bala rule the world.
She was treated as a sort of experiment. Other people were not allowed to touch her or hug her. She had to wear gender-neutral clothing, was not allowed toys and had no contact with other children.
When she escaped, she changed her name as soon as she could. She had never seen a doctor or dentist before, and had been trapped inside the house for most of her life. She had the skills of a six-year-old.
Now she is currently at college, and is speaking out publicly about the abuse she experienced.
But she revealed she did not hate her father, saying,
No. I did used to hate him. I just felt completely powerless. But life is also very short. There is no time to be spent on hatred and anger. I would like to reconcile with him in the future, if he wants it.
Sian died after falling from a window in 1996, and Katy, who did not know at the time she was her mother, remembers being beaten by Sian the previous day.
In fact, she describes her relief at Sian's death, describing her as one of Bala's "worst servants."
The program also includes an interview with Aishah Wahab, now 72, who escaped along with Katie.
They escaped when a third follower, Josie Herival, smuggled in a cell phone and called the number of an anti-slavery line she saw on the news.
Charity workers Gerald Stocks and Yvonne Hall collected the women -- but nearly four years later, Josie remains blindly devoted to her imprisoned leader.
Gerald and Yvonne initially took the women into their home, but now Katy has moved into her own apartment.
Citations: Imprisoned for 30 years by my father, the cult leader: Katy was brainwashed into believing her dad was God and lightning would strike her dead if she tried to flee the cult's HQ in London (Daily Mail), Maoist cult leader jailed for 23 years as 'slave' daughter goes public (The Guardian)