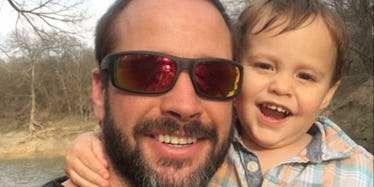 Dad Takes Tragic Last Pic With Son On Fishing Trip Before Going Missing In Woods
Trophy Club Police Department
A huge manhunt is underway for a dad last seen in a smiling selfie with his 2-year-old son.
Matthew Meinert, 38, had gone on a fishing trip with his son Oliver, but the toddler was found all by himself, and his dad remains missing.
In the selfie, which Meinert sent to his wife ahead of their expedition, the pair are grinning and appear excited for their trip at Denton Creek, Texas.
When they failed to return on Monday, a search party was launched, but Oliver wasn't located until the following day, KVUE reported.
He was found wandering through the woods. Apart from a few cuts, he was in good condition considering he spent the night alone in the woods, authorities said.
They are continuing to search the area for Meinert, with police dogs on the ground and drones in the air.
His abandoned fishing boat has already been found, but was empty apart from fishing gear, shoes and a cell phone.
Authorities believe Meinert may have fallen into the water.
Texas Game Warden Captain Tony Norton told KVUE,
There's so many unknowns. We have to turn over every stone to try to find him. And locate him. Luckily we found the child this morning and that was great. Hopefully we can find the father alive as well. We're hopeful for that. We're going to continue to look until we do find him.
Officers said Oliver was cold, hungry and scared when he was found, and the first thing he did was ask for juice.
The toddler was taken to Cook Children's Hospital where he was reunited with his mom.
Meinert's pickup truck was found still parked by the side of the lake.
An avid fishermen, Meiner had been to the lake many times and knew the area well, his family said.
Citations: Dad still missing after toddler found safe during Denton Creek search (KVUE)