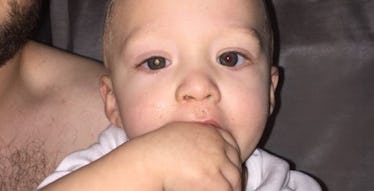 Dad Detects Infant Son's Cancer After Noticing Tiny Detail In This Photograph
GoFundMe
A father was miraculously able to detect his infant son's cancer through a mere photograph.
While looking back at the many pictures he had taken of his son since he was born, one particular photo stood out among the rest for Owen Scrivens.
Within a month of noticing the minuscule detail, 14-month-old Jaxson Scrivens was bravely facing his first round of chemotherapy.
It's certainly easy to miss with just a cursory glance, but upon a closer look, Owen noticed his son had a white reflection in one of his eyes, and a red one in the other.
Owen, a student in medical school and a part-time carer from Felpham, West Sussex, said,
I looked through some old photos and you actually can see the point where it changes in late November. There'd been nothing else wrong, although after we noticed the eye color he started to develop a bit of a squint.
In December, Owen and his partner, Emily, took Jaxson to see a general physician, who apparently had "never seen anything like it" in 17 years' experience.
A few doctor visits later, Jaxson was referred to an eye specialist at the Royal London Hospital, who discovered his cancer.
The infant received his first round of chemotherapy treatment in late December. According to Owen, Jaxson's tumor has already shrunk to a third of its size.
Unfortunately, the tumor will never fully disappear, and Jaxson will need monitoring for the rest of his life. However, doctors hope they can shrink the tumor down to a small benign mass to ultimately save Jaxson's eye.
Owen said,
After the chemo he's very sick for a couple of days, he's just not his usual self and doesn't want to do anything, but after a few days he gets back to his usual happy self. His sight is alright – they can't do a proper eye test but from what they've found, he's missing a bit of tunnel vision. It's going insanely well and we're so proud of him.
The couple has since started a GoFundMe page to raise money for Sussex Snowdrop Trust, a charity for children with life-threatening illnesses, and the Piam Brown unit in Southampton General Hospital, where Jaxson is currently receiving treatment.
Owen and Emily also started the page as a way to raise awareness of Jaxson's rare disease, so parents can check for "the glow."
He said,
We really want to raise awareness of this cancer – it's something so simple to spot, it doesn't come up in every photo and not everyone will be able to spot it but a lot of people will. Some children at the hospital had both their eyes removed, which is horrible, and we want people to catch it early. What's really shocked us from talking to people is them saying 'my niece or nephew had a white glow in their eye but we didn't think anything of it.'
Citations: Father detected son's cancer after seeing this picture of him (Metro.co.uk), Jaxsons' fight with cancer. (GoFundMe), Know the Glow (Children's Hospital Los Angeles)