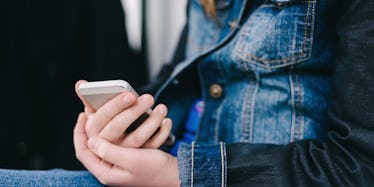 This Dad Got Arrested For Taking His 12-Year-Old Daughter's Phone Away
Gillian van Niekerk
A Texas father was brought to trial after he reportedly took his daughter's cell phone away.
Grand Prairie's Ronald Jackson, 36, confiscated his then 12-year-old's iPhone 4 in September of 2013 after allegedly discovering an inappropriate text.
He claims his daughter sent a very insulting message about another teen, and he simply wanted to teach her that was not right.
However, the teen's mother, Michelle Steppe, had police officers sent to Jackson's home that day to ask for the device.
Jackson told CBS DFW,
I couldn't believe they would go to this extent for a cell phone. It didn't seem right.
Steppe and Jackson used to be a couple but were never married, according to Daily Mail.
Steppe said she bought the cell phone and took the plan out under her name, WFAA reports.
She reportedly said,
You can't take someone's property, regardless if you're a parent or not.
Jackson received a citation in the mail for theft of property less than $50, a Class C misdemeanor, three months after taking the phone.
In January 2014, the city's attorney office offered Jackson a plea deal to return the phone, but he refused.
This resulted in his charge being upgraded to a Class B misdemeanor, a much more serious offense that could result in a $2,000 fine and up to six months in prison.
In April of last year, a warrant was issued, and Jackson was arrested at his home at 2 am. He posted bail for $1,500 shortly after.
A two-day trial came to an end on Tuesday when a judge found Jackson not guilty due to a lack of evidence.
The father told WFAA he now fears he "can't ever have a relationship with [his ex and daughter] again."
His lawyer believes the police and city attorney's office violated his civil rights, and Jackson plans to file a federal complaint.
Police reportedly tried and failed several times to obtain the cell phone from Jackson, who still has the device.
Citations: US father tried for THEFT after he took his 12yearold daughters mobile phone away as a punishment (Daily Mail), Dallas dad not guilty for taking tween daughters phone (WFAA), Father Arrested For Theft After Taking Daughters Phone Vindicated (CBS DFW)