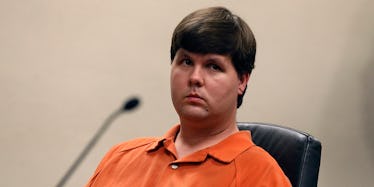 Dad Accused Of Sexting Underage Girls While Leaving Son To Die In Hot Car
REUTERS
A father has gone on trial after being accused of leaving his son to cook to death in a hot car while he sent sexts to women.
Justin Ross Harris, 35, of Cobb County in Georgia, allegedly left his 22-month-old child to die in the back of his SUV while he went to work at Home Depot in June 2014.
Prosecutor Chuck Boring said Harris sent a message to a woman just before he locked the car doors. The message read,
I love my son and all, but we both need escapes.
The prosecutor claims Harris was seeking sexual liaisons with young women -- some in their teenage years -- and sexting them.
Boring told the jury that while the boy was in the car, Harris "was messaging over 30 people, most of them women, most of them about sex."
Woman that he had met before, women that he had professed love for, that he had met online, and exchanged comments about being unhappy in his marriage. On that day -- while his child was cooking to death -- he was messaging a girl he met when she was 16, still trying to get pictures of her vaginal area from her.
Boring went on to say,
Hold this man responsible for trying to escape from one life into another by killing a child in one of the most horrible, unimaginable ways possible.
Harris' defense lawyers are set to make an opening statement today.
They previously claimed Harris meant to drop his son off at day care, but completely forgot the child was in the back seat of his car.
However, a probable cause hearing back in 2014 heard how the accused researched hot car deaths online as well as the search term "how to survive in prison."
Harris faces multiple charges including cruelty to a child, felony murder and malice murder.
The case has captured so much attention the trial had to be moved so unbiased jury members who hadn't yet heard the story could be found.
Citations: USA Today