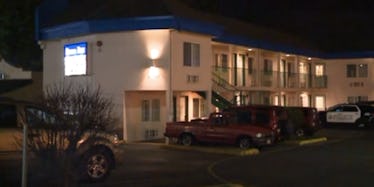 Craigslist 'Serial Killer' Stabbed Date On Motel Bed And Tried To Eat His Heart
KCPQ
An "aspiring serial killer" allegedly stabbed her date in a motel and planned to eat his heart after killing him.
The victim told police Amy Brown, 24, repeatedly asked him if he was a serial killer while the couple was in a motel room bed.
When he said no, she allegedly climbed on top of him and replied, "Well, I'm a serial killer."
Brown and the man met up at the Rodeo Inn motel in Lynwood, Washington on January 30 after arranging their date on Craigslist, The Seattle Times reported.
According to a police report, Brown planned to murder the man and eat his heart.
While being questioned, she also told authorities she had written a note to leave on the 29-year-old victim's body after finishing the job, "explaining that she planned to kill again," according to police.
After revealing she was a "serial killer," Brown reportedly began stabbing the man with a pocket knife.
He managed to escape and call 911, and met police at a nearby Walgreen's, before being taken to the hospital with a punctured lung.
The victim said the attack was unprovoked and there had been no altercation beforehand.
He told officers they met when she responded to his Craigslist ad, which was for "friendship and possibly dating," rather than sex.
Police found Brown in the parking lot of the Rodeo Inn, where she had a knife.
During police questioning, Brown was asked what happened, to which she replied, "I'm a loon."
The police report read,
She was extremely emotionless when she spoke to me about attempting to kill. At one point throughout the conversation, she was more concerned with missing work the following day than facing the possible consequences of an aggravated assault.
Brown, of Edmonds, Washington, has been arrested on suspicion of first-degree attempted murder.
A Snohomish County judge set bail at $1 million, according to KCPQ.
Citations: The Seattle Times, KCPQ