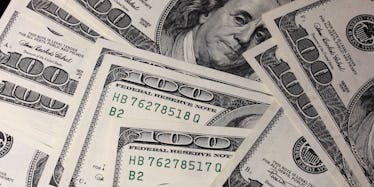 12 Coworkers Won The $60M Lottery And Completely Lost Their Minds (Video)
Getty Images
Anyone interested in seeing a group of middle-aged Canadians in business casual attire lose their sh*t in a conference room came to the right place.
A group of 12 coworkers, who have played the lottery together for eight years, went buckwild Monday when fellow employee and ticket holder Dennis Cartier revealed a $60 million lotto win.
The lucky victors work side-by-side at Canadian Black Book, a car evaluation company in Markham. The group said in a press conference Thursday, they plan to stay in their positions for purpose rather than income.
On the day of the big win, Cartier was about to tuck into a tasty lunch burrito when he remembered he had not yet checked the group's lottery ticket from Friday.
He stopped at a gas station, checked the ticket and noticed it read, "Big Winner. $60 million."
He double-checked the ticket on his home computer, only to see his wildest dream confirmed.
At the press conference, Cartier recalled,
That's when it all became very real…We're still living the dream right now.
A few of the winning employees claimed they'd spend their $5 million portion of the pot on "cars and travel," but there has to be at least one member of this team who will be engaging in some delightfully irresponsible spending.
I'm looking at you, "HOLY SH*T" guy.
Citations: 12 Markham co-workers claim $60M Lotto Max jackpot (The Star)