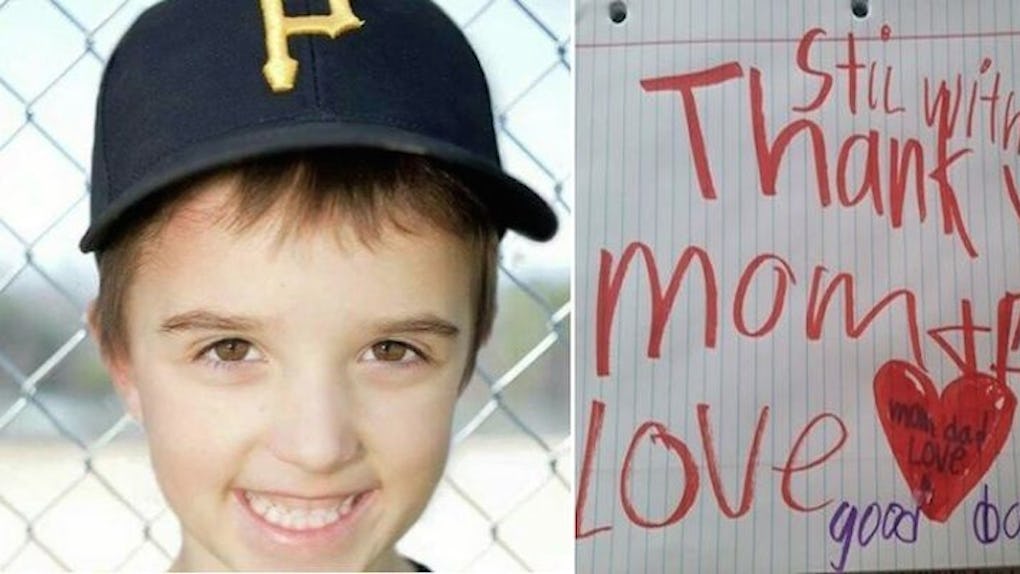 Facebook
Parents Find A Beautiful Note Written By Their Late 6-Year-Old Son
When Leland Shoemake's parents lost their son who suffered an amoebic brain infection, the Georgia residents thought they'd heard from their 6-year-old for the last time.
In a post on the Prayers for Leland Facebook page, grieving mother Amber Shoemake shared a startling discovery she made upon returning home from the hospital without her child.
A note reading "[Still] with you. Thank you Mom & Dad" waited for the parents.
This is Amber. This will be my only post on here for awhile. I was over protective of Leland and tried my best to keep... Posted by Prayers for Leland on Monday, September 28, 2015
In the post, Amber recalled,
When Tim and I came home for the first time to get him clothes to be buried in, this is the note we found from him on the table in the living room. We have no idea when he wrote it but you can tell he was always a special child.
WSB-TV reports Leland was in critical condition at Children's Healthcare of Atlanta prior to his death.
During his battle, the Shoemakes established a GoFundMe in Leland's honor in the hopes he would recover.
Citations: Mother finds heartbreaking note from son who died after battle with brain infection (FOX 4 News), 6-year-old from Pike County dies from rare amoebic infection (WSB-TV)