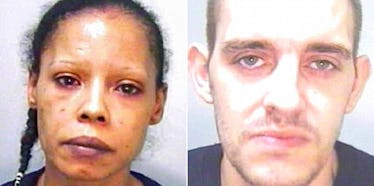 Couple Who Drugged Child So They Could Have Sex React To Jail Time: 'Whatever'
Police
Michala Pyke was sentenced to 13 years in prison on Thursday after feeding her 4-year-old daughter a deadly assortment of drugs, all so she wouldn't interrupt her sex life.
Her daughter, Poppy Widdison,  who was named after her mother's favorite drug, died in June 2013 after suffering a cardiac arrest inside the Lincolnshire home of her drug dealer, John Rytting.
Pyke, 38, allegedly fed her innocent child diazepam, heroin, methadone and ketamine, MailOnline reports.
Apparently, she started a relationship with 40-year-old Rytting and felt her daughter was an inconvenience to their affair.
One text message in particular that was publicized by Prosecutor David Gordon at Hull Crown Court said she planned on giving Poppy a "blue Smartie," which was code for diazepam, a sedative to make the child sleep.
Apparently, the exact text message sent from Pyke to Rytting before they met up read,
She can have a blue smartie and go to sleep lol xxx.
After Poppy died, a toxicology test was put forth to determine exactly what substances were in her system six months prior.
The results showed she had ingested "significant amounts" of heroin and methadone leading to her tragic death.
Police said Rytting's home where Poppy was found dead contained accessible drugs.
However, he claimed he was only responsible for the child during the last six weeks of her existence.
Regardless of the drug dealer's claims, the court heard that two drugs which were found in Poppy's hair were only prescribed to Rytting.
He, along with Pyke, were sentenced to 13 years in jail for child cruelty.
In court, he replied to the judge's decision by saying, "Whatever."
Pyke's lawyer, Katherine Goddard, suggested the death of Poppy was ultimately caused by the toxic relationship that existed between her and Rytting.
Apparently, Poppy's biological father, Brendan Widdison, was unaware the child was even at risk.
In court, he stated,
If we had known... the concerns of the social care, we might have acted differently as a family. We had no concerns. The last time we saw Poppy was her birthday -- her fourth birthday. She was her normal, happy self, pleased to see us and excited about her birthday.
He continued,
We as a family could not have foreseen what would have happened and in this case we don't believe social care could have either.
Judge Jeremy Richardson claimed Poppy was born addicted to heroin.
He also said the couple treated Poppy badly and they "changed their demeanor in front of others."
Because of their selfishness, Poppy died a completely preventable death.
Citations: Poppy Widdison death: mother and ex-partner jailed for 13 years (The Guardian), 'Whatever': Drug dealer's disgusting response as he and his girlfriend are jailed for 13 years for killing her daughter, 4, by feeding her diazepam, heroin, and ketamine 'like smarties' so they could have sex undisturbed (MailOnline)