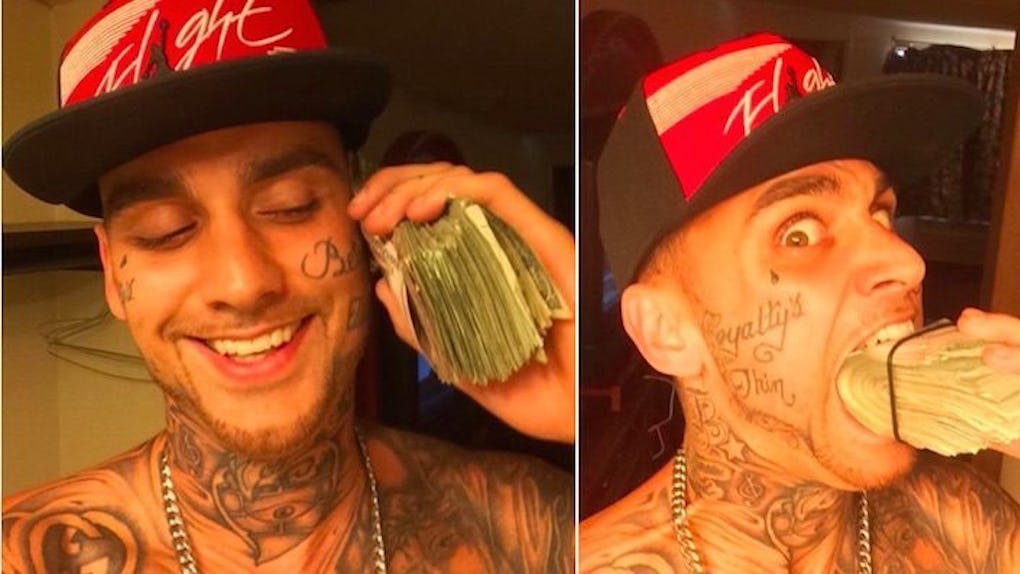 Facebook
Couple Arrested For Robbing Bank After Posting Pics Holding Stolen Cash
An Ohio couple robbed a bank and got arrested after posting pictures of themselves flaunting the money on social media.
According to Daily Mail, 28-year-old John Mogan allegedly went into The Savings Bank in Ashville, Ohio on August 24 and handed the teller a stick-up note.
The teller reportedly gave him an undisclosed amount of money, and he calmly walked out.
Just a few days after the robbery, a Facebook under the name "Ashley John Mogan" began posting photos of Mogan and 24-year-old Ashley Duboe posing with huge wads of cash.
One of the photos appeared to be taken inside a public building.
Mogan pretended the loot was a phone.
Another photo featured Mogan stuffing cash into his mouth.
A family member of Mogan's commented on this last photo, according to The Smoking Gun, and asked why Mogan "didn't hook a brother up."
Mogan replied the wad was known as a "McStack." He then reportedly added,
I got six bands bra real sh*t n*gga. I'm doing rrree=aaaaalll) good.
Mogan's facial tattoos read "Loyalty's thin" on one cheek and "Betrayal's thick" on the other.
Police were soon tipped off about the couple by the Central Ohio Crime Stoppers.
Mogan and Duboe were arrested last week and charged with robbery and theft. Mogan was previously jailed for robbing a bank in 2010. He was released on July 19, 2015.
It's unclear how much time Duboe could spend in jail, but Mogan, who was on parole when he committed last month's robbery, reportedly faces at least four years in prison.
The pair is currently being held in lieu of a $250,000 bond.
Citations: Are these the dumbest thieves ever? Cocky bank robbing couple arrested 'after posing for Facebook photos with the thousands of dollars cash they stole' (Daily Mail), Facebook Photos Help Cops Nab Bank Robbers (The Smoking Gun)