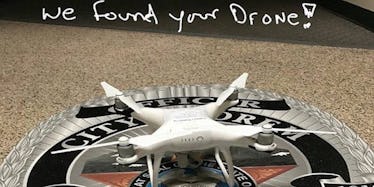 Cops Shame Couple On FB After Finding Drone Used To Spy On Neighbors' Bedrooms
Facebook
Last week, I was sitting in my living room, staring out at the beautiful Manhattan skyline, when something caught my eye.
There was a little black drone hovering outside of my window!
Apparently, my neighborhood isn't the only place that has a few high-tech peeping Toms patrolling the skies.
A Utah couple has just been accused of using a drone to invade other people's privacy.
Terisha Lee Norviel, a 34-year-old mother of six and her boyfriend, 39-year old Aaron Dennis Foote, are facing charges after allegedly using a drone to spy on their neighbors.
The couple was arrested last month for voyeurism after police found the high-tech drone Norviel and Foote allegedly used to peep into their neighbors' homes.
After finding the $1,200 drone back in December, Orem Police discovered videos on the drone that appeared to show footage of people's bedrooms and bathrooms.
The drone was initially brought to the attention of the police by a man who spotted the device flying outside of his window, then followed the flying object until it landed in a church parking lot.
After handing the drone over to the authorities, investigators reviewed the videos recorded on the device and uncovered the identity of the drone's owners.
Apparently, the videos contained images of Foote flying the device, as well as images of Foote's truck, which ultimately allowed police to track him down by tracing the license plate number on the vehicle.
The Desert News reports the couple used the drone to film people inside their homes early in the morning.
Police claim the the operator of the drone hovered outside the windows of residential homes and high-rise apartment buildings.
The drone waited for people to wake up and turn on the lights so it could film inside the residences.
Instead of immediately hunting down the drone's owners, the police decided to give Norviel and Foote a chance to turn themselves in by trolling the couple on social media.
The cops shamed the couple who used a drone to spy on their neighbors on Facebook by posting a photo of the drone along with the caption,
Would you like to turn yourself in before we have to come knocking at your door, maybe on Christmas morning, with a warrant? We know who you are but let's make this easier on everyone!
On January 19, Norviel and Foote were arrested by Orem Police and charged with voyeurism by electronic equipment.
Apparently, this isn't Foote's first run-in with the law.
The man has been arrested for burglary, theft and assault in the past.
Plus, Foote has also been previously charged with voyeurism due to an incident that occurred in a tanning salon.
Norviel and Foote are set to appear in court on March 3 for a preliminary hearing.
Citations: Mother of six, 34, and her boyfriend are arrested for 'using a drone to peep into the bathrooms and bedrooms of neighbors' (Daily Mail)